Coast to Coast 2008 - Getting to St. Bees
I made contact with both Mick and Malc the night before we set off to St Bees i.e. Wednesday 7 May just to check that everything was OK. Mick had been very busy working and he was repairing his chain saw. Malc told me he had been out doing some last minute shopping and out of the blue he asked me if we would be 'roped up' whilst going across Striding Edge. When I asked Malc why he said 'Well if I fall, I don't you two to miss out on the experience'. This was followed by another comment that he could only get 22lbs plus pampers to wear whilst traversing Striding Edge. Typical Malc really – always joking but behind the jokes I sensed he was worried about Striding Edge.
I didn't sleep too well but felt quite refreshed as I awoke at 5.20am. I just relaxed in bed listening to the birds singing and just going through the walk in my mind. It wasn't long before breakfast and then Malc arrived at our house as planned ready for our pick up by Pete and Mick. We set off as planned just after 10 o clock, in bright sunshine and we had a reasonable drive through Leeds onto the A65 all the way to Kirkby Lonsdale where we stopped at the Devils Bridge café for a drink and bite to eat. This is a very busy spot close to the main A65 and is very popular with bikers – today was no exception.
Suitably refreshed, are raring to go, we set off to St Bees on the arduous drive around the southern end of the Lake District arriving at our first overnight B & B – Stonehouse Farm, St Bees at 2.30pm. We were met by our hostess Carole and she showed us to our accommodation, a detached cottage next to the main farmhouse building. We invited Pete in for a drink of tea before he set off back home to South Yorkshire about 20 minutes later.
I decided to pay Carole the balance due for our accommodation to avoid delay the next morning. The cottage is spacious, clean and comfortable accommodation and obviously it had not been rented for the week hence us being allowed to stay there. I learned from Carole that 11 C2C walkers would be setting off from Stonehouse Farm the next morning. I was sharing a twin room with Malc whilst Mick was alone in a twin room. We didn't waste too much time sorting out our gear as we would have time later so we set off for a walk down to the St Bees sea front to view the starting point for the walk. I took a few photographs at the St Bega statue just around the corner from Stonehouse Farm and we wandered slowly down the road to the sea front.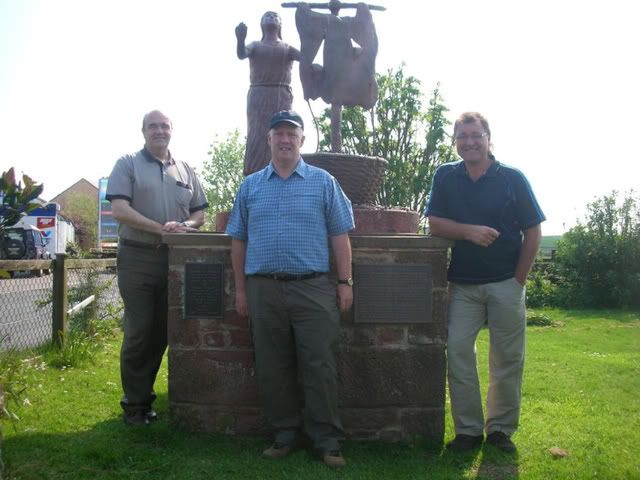 Carole had told us that the weather had been threatening to thunder earlier in the day but it was fine and bright now and we inevitably discussed the weather for the walk. Malc asked a quiz type question: 'What were the worst two winters on record in the Uk?' After much head scratching we came up with 1947 and 1965 to be told my Malc we were wrong as it was Mike and Bernie. Cut them out Malc.
We took a few photographs at the official starting point and surveyed the plaque which had been vandalised prior to my last visit in 2006 so I didn't see it. A few phone calls to our wives back home and I wandered off to visit the 'Bees Hive' geocache whilst Mick and Malc headed for the Seacotes bar nearby where I joined them a short time later. We had a couple of beers before walking back to Stonehouse Farm to get ready for our evening meal in the village. I took a photograph from near the 'Bees Hive' geocache which I believe shows St Bees Head in its full glory.
We wanted an early meal as we had been travelling most of the day and had already had a couple of beers which had whet our appetite. We went to the Manor House Hotel just up the road from Stonehouse Farm and the menu looked good so we ordered our respective meals and had a few beers with it. The meals were good value for money and I recommend others to visit. After our meal we stood outside talking and I noticed a group of 4 other men who were obviously doing the C2C walk – each had a white tea shirt with OLD GITS 1, 2, 3 and 4 on it.
I was aware from the 'walkingplaces' website forum that 4 such gents from Hampshire were also staying at Stonehouse Farm and I was correct in assuming it was them. I introduced myself and then my colleagues and we chatted about our respective schedules and the walk itself. They still had to have their evening meal so after a decent bit of banter we left them and set off down to Stonehouse Farm. I went into the cottage whilst Mick and Malc decided to visit the nearby Platform 9 bar and restaurant to see what it was like. They returned a short time later saying it was quite empty but coincidentally met a former work colleague Phil who had retired many years ago from South Yorkshire to live and work in Cumbria and he was now working at Platform 9 – it's a small world isn't it.
We prepared our walking gear, rucksacks and bags for onward transmission by Packhorse the following day and chatted/watched TV for quite a while before retiring to bed.