Day 8 – Friday 16 May: Keld Lodge to Hillary House, Reeth.
We went down for breakfast at 8am as did most of the other residents. Jed was serving breakfast – well I say serving breakfast but he was really facilitating breakfast. The cooked breakfast components had been placed in 'heated trays', in theory to keep the food hot, but the breakfast was in fact only just warm. This was a real negative for Keld Lodge and if this is the norm they need to get their act together or they will lose potential returning customers. We had finished our breakfast and we were kitted up and off for 8.45am. We had watched Chas and Dave taking down their tents earlier. As we walked past the campsite just below Butt House we wished the two Pennine Way walkers all the best as they were almost ready for the off over Tan Hill and into Teesdale.
We had decided on the lower level route today to take in some of the valley scenery and villages along the way. I had completed the higher level route 2 years ago and whilst I thoroughly enjoyed it I believed the lower route would suit the three of us more. We crossed the River Swale in Keld village and headed up towards the ruins of Crackpot Hall where I climbed up the spoil heaps from the old mining area to visit a geocache whilst Malc and Mick continued down towards Muker on the left hand side of the river. I did not take long to visit the cache but it allowed my colleagues to get about 700 yards ahead of me. As I walked down the valley passing Swinner Gill I looked over to the shorter and easier footpath by the right hand side of the river and saw the two posh ladies heading towards Muker.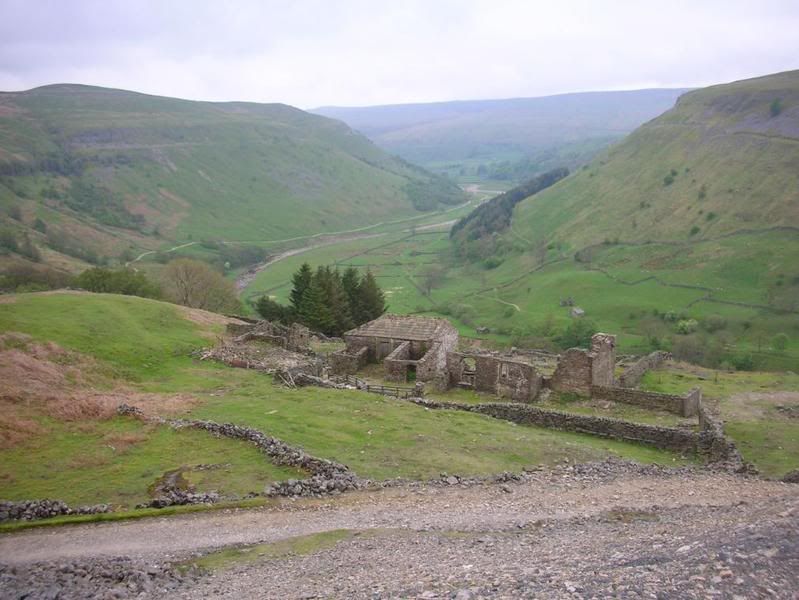 I caught Malc and Mick up going over the grassy meadows between Muker and Ivelet. We did not have to go into the village of Muker. I took the opportunity to visit another geocache in the valley before arriving at the historic Ivelet Bridge with Malc and Mick. As we approached Gunnerside village we wondered if the Kings Head pub would be open but at 11.15am it was unlikely and sure enough it wasn't. We walked around the corner to a wonderful little tea room and café called Ghyllside and sat outside with our tea/coffee and some buttered scones with jam. This was a treat and I promise you Ghyllside is a treat and well worth a visit – spotlesslessly clean with excellent food and drinks.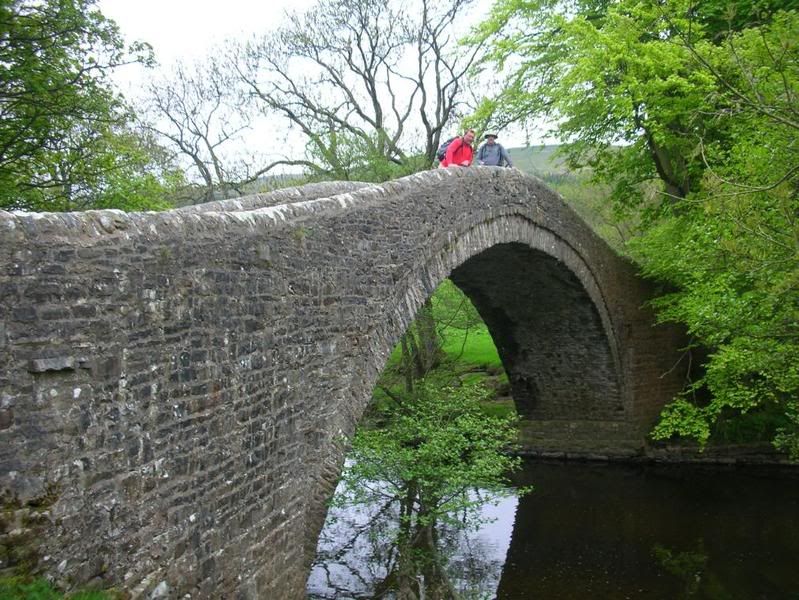 We finished our tea and scones and then headed for the footpath behind the Kings Head that leads down the valley towards Reeth. There are quite a few squeeze stiles on this section they can cause havoc with bruises on knees etc. Malc bagged a few bruises on his lower legs by misjudging the gaps in the stiles. It is a pleasant walk along the valley often crossing wild flower fields, riverside paths and occasionally a section of road. A fascinating section is where the footpath goes along the top of a 6 feet thick wall for about 500 yards. Another notable aspect of this section is the number of extensive rabbit warrens by the rivers and paths. We crossed the majority of the Lake District without seeing many rabbits but it was quite the opposite here in Swaledale with hundreds of rabbit scurrying around in front of us as we walked along.
We arrived in Reeth at 1.30pm and visited the local bakery on the main road leading from the top of the square to Gunnerside. This bakery is one of my wife's favourite shops in the whole Yorkshire Dales. Mick and Malc managed to buy the last 2 meat pies containing mushy peas – a rather unusual blend within the pie crust. I bought one of my favourite's, a Reeth bakery Cornish pastie. We went to sit on the grass on the village green with out boots off just watching the changing images in and around the village. In the village it was market day so the village green was busy with stalls and cars. Around the village I looked across to Fremington Edge in one direction and to the hills above Grinton in the other. I have walked the valley and hills around Swaledale on many occasions.
Malc made an enquiry in relation to evening meals at the Buck Hotel but we were out of luck as it was annual dinner and disco night for the darts league around the dale. What should we do for our evening meal? Mick reminded me that a mobile fish and chip van toured the Yorkshire Dales in the evening and wondered if he came to Reeth on Friday. A quick enquiry and we were in luck – the van would be parked in Langhorne Close opposite the bakery between 4.30pm and 6pm. We all agreed that this would be more than appropriate for our evening meal.
We were far too early to book in at our overnight accommodation, Hillary House which is within view of the green, so we went for a couple of beers at the Kings Arms. We chatted to a few of the locals in the pub and over the next hour or so we were joined by other walkers including two ladies from south east of Manchester who were on the C2C walk being supported occasionally by their husbands driving up to meet them along the route.
At 4pm we decided to book into our accommodation and wandered across the green to Hillary House. This is a charming detached house on a quiet terrace just off the village green. The gardens were immaculate. We were greeted by Clive, the proprietor, who lived at Hillary House with his elderly mother and uncle – and of course Del the talking parrot. Clive and his family are extremely friendly and welcoming and the house is as immaculate as the gardens. Del was not in a talkative mood despite the occasional lure by provision of yoghurt on a spoon. We were made to feel very welcome and chatted for quite some time before being shown to our rooms on the first floor. Clive had already moved our Packhorse baggage upstairs so it was the usual routine of a shower, sorting our kit our and soon we were ready to go for our evening meal i.e. up to Langhorne Close for the mobile fish and chip van.
Now here is a genuine story as we were changing and getting ready to go out. Malc and I were sharing a room and I had showered first. Malc then followed but returned to the room a few minutes later grinning to himself whilst rubbing his face. I naturally asked him what was so amusing and as a result of what he told me I can confirm that Malc needs to wear his glasses more often. Malc intended to shave and had mistakenly covered his face in Steradent toothpaste which had started to sting and smart as he tried to shave.
We arrived at the fish and chip van at 5.45pm and within a couple of minutes of placing our order we were served with our fish, chips and peas. There is something special about eating fish and chips from paper in the great outdoors and this was certainly no exception. The meals were excellent value for money (£4 each) and tasted absolutely delicious. I highly recommend other C2C walkers staying in Reeth on a Friday night to consider this 'different option' for an evening meal.
With our evening meal out of the way we decided to have a few beers around the village and despite the darts function starting later in the evening we had a beer in the Buck Hotel and then walked down to the Kings Arms where we met Roger and then Geoff, Jane and Jeff. We chatted for some time over a few beers and to the delight of all the Doncaster Rovers supporters i.e. Geoff, Jane, Jeff and Mick we learned that they had qualified for the football play off final. I returned to Hillary House with Malc at about 10.30pm and chatted with Clive until 11pm when I retired to bed. Malc had already crashed out asleep upstairs and I heard Mick come in a couple of minutes later.