Day 7 – Thursday 15 May: Fletcher House to Keld Lodge, Keld.
I was up early this morning and managed to get showered and all my gear sorted before Mick awoke. Mick had a system perfected where he could have an extra 15 minutes sleep and still beat Malc and I to breakfast and leave his gear ready for the Packhorse minibus. Due to Kirkby Stephen being the first stop on the eastward drive by Packhorse our bags had to be ready for 8.15am and they were. We sat down for breakfast at 8am and in my view the best breakfast along the route was served to us by Gillian shortly afterwards. We were set up nicely for the trek over Nine Standards and the packed lunch provided by Gillian was simply massive and excellent value for money. Fletcher House is yet another B & B that I will definitely visit again.
On our way through the town centre towards Franks Bridge I bought a few postcards to send to my wife and sons whilst Malc visited the cash point machine at one of the banks. A short walk down the backstreets brought us to the picturesque Franks Bridge which is a favourite picnic spot for many people but at 9am in the morning we were the only people there. Over the fields and up through Hartley village brought us to a long and often steep section of road past Hartley quarry to the start of the off road path proper leading towards Nine Standards Rigg summit.
We passed two new couples along the early sections of this road, an Australian couple and a couple from the south of England. Both were intent on taking their time to enjoy the scenery and I cannot blame them. Just as we left the road section to head for the open fell we passed Geoff, Jane and Jeff. I was impressed that they stuck together as a 3 person team throughout the walk helping each other along, in particular Jeff who seemed to be struggling at times but to his credit he must have had outstanding mental and physical strength to get him through to Robin Hoods Bay in one piece.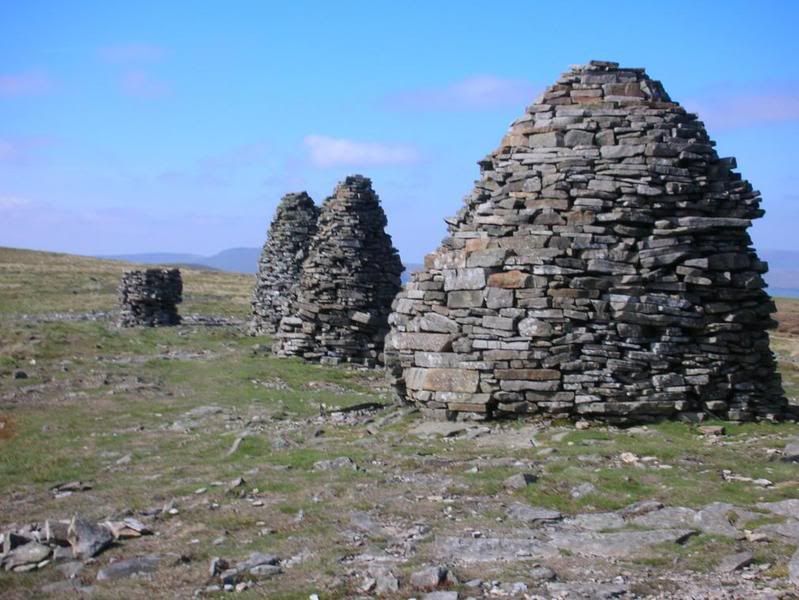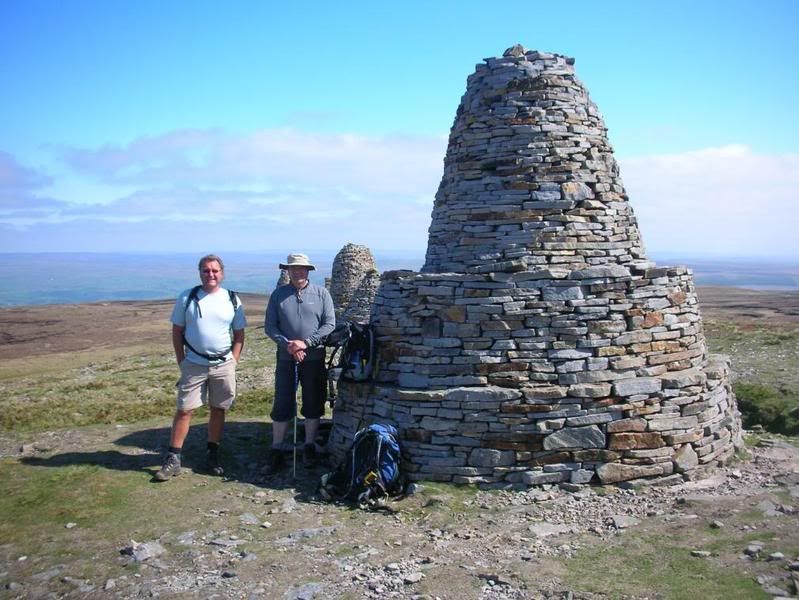 Once onto the open fell I forged on ahead. I hadn't felt too good in the early part of the walk but as soon as I hit the turf and track I was in a determined mood to get to the Nine Standards without stopping. As we climbed higher it became windier and cooler but the sun was shining. I waited for Mick and Malc and had to put my fleece hat on to keep warm whilst we were on the summit area. We took a few photographs at the Standards before heading off towards the viewpoint and then trigpoint. It was remarkably dry on the summit area and the views were good. There were the usual boggy sections going across the tops to White Mossy Hill and along the descent to the pillar half way down towards Ravenseat.
We were following the permissive red route across Nine Standards which was clearly marked and easy to follow. On the way down to the pillar I almost stepped on a female grouse sitting on her eggs/chicks. My foot was about 9 inches away and she never flinched. We left her alone and continued along our route. The bogs were not too bad at all but I am all too aware that after rain this section can be slow to cross due to the extremely boggy nature of the slopes.
A few photographs were taken at the pillar including one where Mick was holding a sheeps skull, taken from the top of the pillar, like a rugby ball. We had decided to descend all the way to 'black hut' shooting cabin by the side of the track leading down to Ravenseat and we arrived there in the cool wind to find the shooting cabin unlocked and available for us to use for our packed lunch. This was clearly a well used hut complete with a litterbin and black bin liner provided by the landowners or local farmer – a great gesture I believe. We had a good half hour for lunch and no one else came past us.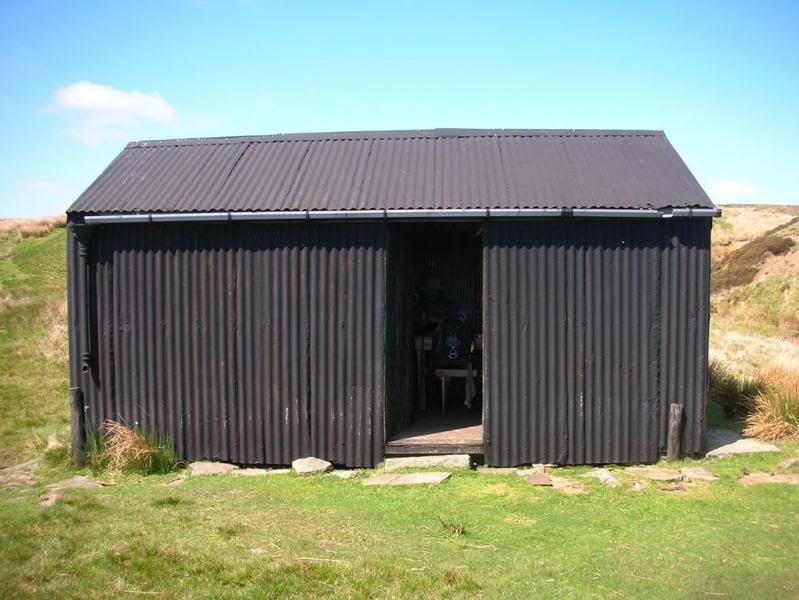 We set off from the 'black hut' down to Ravenseat passing a couple of day walkers first coming from Keld and then 4 C2C walkers from Gloucester and Bristol who had completed the St Bees to Kirkby Stephen sections last year and were intent on completing the Kirkby Stephen to Robin Hoods Bay sections this year. They were using cars to get them to the start of each day and leaving a car at the end of each day first from one of a small number of bases across the route. They were walking the Keld to Kirkby Stephen section in reverse having left a car at Kirkby Stephen and another Keld Lodge, which coincidentally was where we were heading for our overnight accommodation. The Gloucester 4 told us that beers were on sale at Keld Lodge and they had been invited in by the manager to have a drink when they returned from Kirkby Stephen. The thought of real ales on sale at Keld Lodge put more than a spring in the step of Mick who shot off towards Ravenseat ahead of Malc and myself.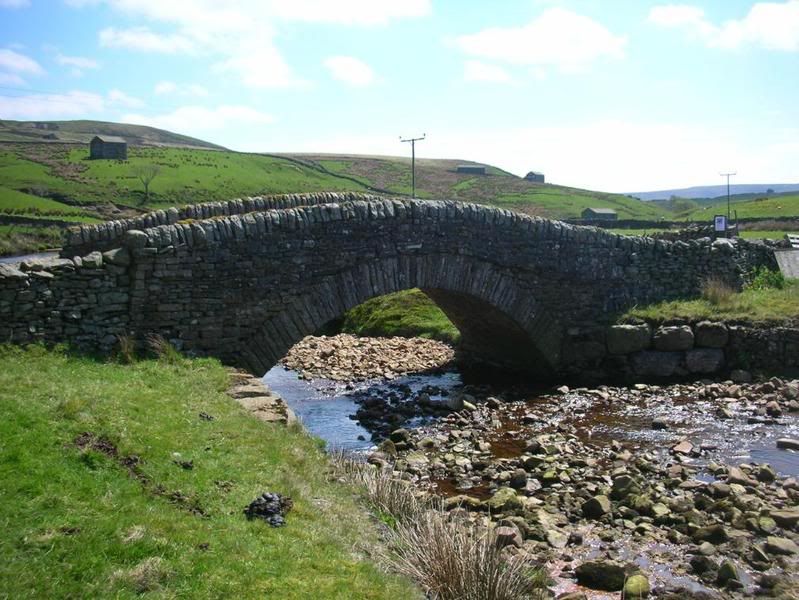 Mick waited for us near the bridge at Ravenseat farm where an appealing signs confirmed tea's and cakes were on sale from the farm. A number of picnic tables were situated on an area of grass nearby – how could we miss the opportunity to talk to a local farmer's wife? Malc went up to the door and ordered us some tea and coffee. Amanda, the farmer's wife, came down to the picnic tables with our tea and coffee on a tray. It was extremely interesting and educational talking to Amanda about the Gunnerside estate and some of the features around Ravenseat e.g. 1. The majority of the land around these parts is owned by a US billionaire called Robert Miller who has a house in Gunnerside. 2. The 'black hut' is a shooting cabin used by the beaters and those involved in a shoot. 3. Silver service meals are served to those involved in a shoot at the 'black hut'. 4. The small building just over the wall from the picnic tables was a former chapel with a burial ground attached. We had a further 50 minutes rest here chatting to Amanda and luring one or two other C2C walkers in for a tea as they passed including Geoff, Jane and Jeff.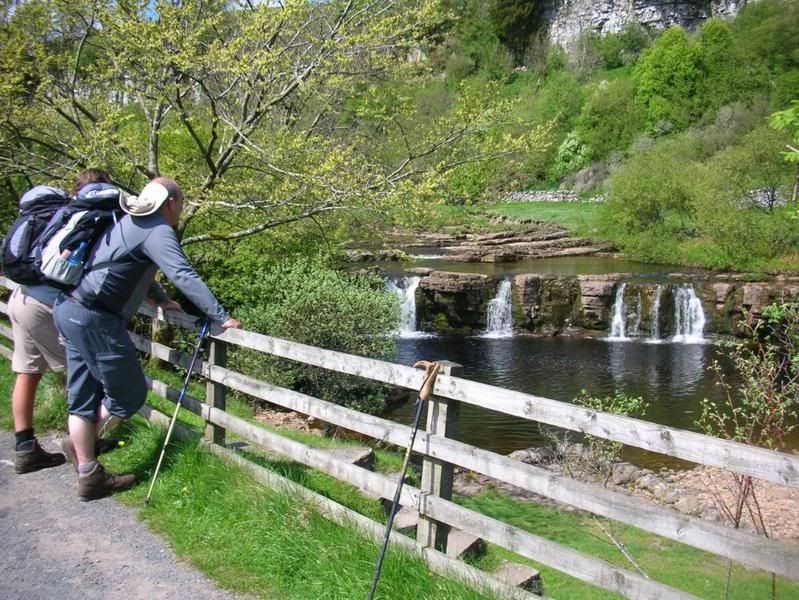 The lure of the real ales on offer at Keld Lodge urged us on down the valley towards Keld. We called in at Wain Wath Force on the way but it was relatively dry and no where near as spectacular as it can be following heavy rain. As we were passing Park House caravan park our attention was drawn to two ladies and gent outside a caravan close to the entrance who waved to us shouting 'Do you want a cup of tea?'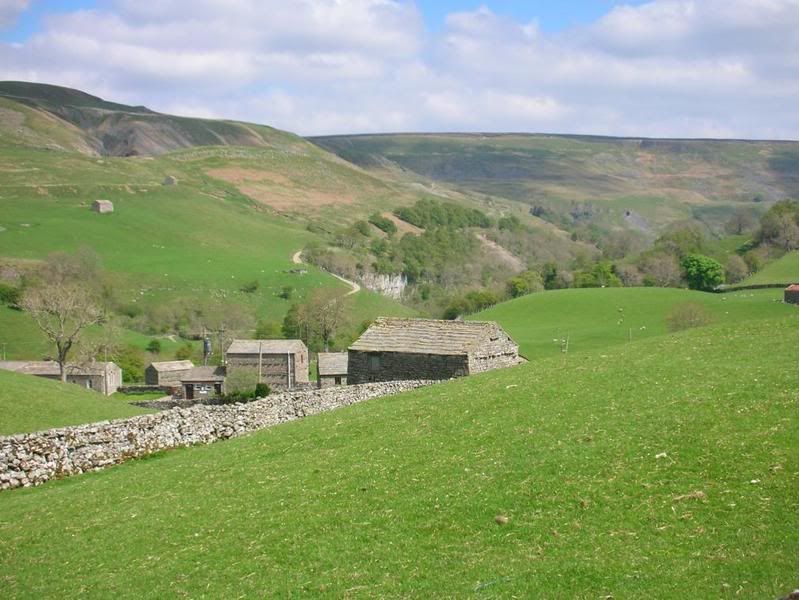 It was the familiar sight of the two ladies, and support driver, who we had seen earlier in the walk with the red setter and dalmation dogs. It would have been rude to refuse the offer of a cup of tea even though we were now within a mile of Keld Lodge and the real ales. We enjoyed a cup of tea and chat for 40 minutes when we learned that their walk had to be abandoned following an injury to the their dalmation, Holly. The injury had been caused when another dog ran at Holly very fast and collided with, and damaged, it's leg. The dalmation, called Holly, had been taken to the vets and was still recovering from the injury.
As we set off to leave the caravan park for Keld Lodge we met Chas and Dave who were walking down the road looking for their camp site with 'park' in the title. They checked the caravan site and were told the correct site they wanted was in Keld village so they joined us on the walk down into Keld and of course they called in at Keld Lodge with us for a beer or two.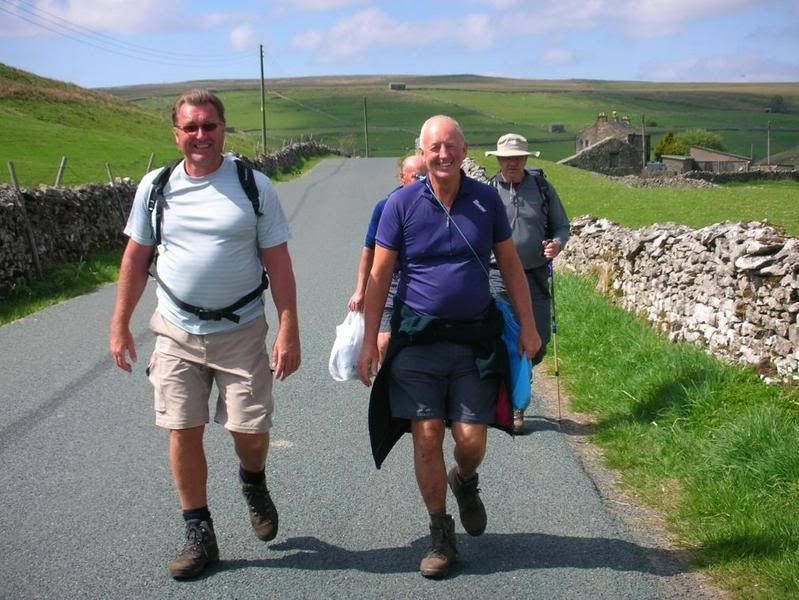 On entry to Keld Lodge, the former Youth Hostel, we met Jed, the lodge manager, and Tony who is involved in the management of the premises. It didn't take us long to down a couple of beers in between taking our bags to our rooms. The premises had been extensively refurbished and the rooms were outstanding. The beers and menu were also equally outstanding and although a little more expensive than some others on the route this is clearly a must place to stay on the C2C walk. We also learned that the same consortium had purchased Butt House from Doreen and Ernest Whitehead, which they were running as a B & B. It wasn't long before that beer ferret Roger called in to Keld Lodge followed by Geoff, Jane and Jeff all of whom were staying at the Tan Hill Inn about 4 miles away. They had to make telephone contact with the Tan Hill Inn on arrival in Keld to make arrangements for a lift from the owners. In the meantime they enjoyed a few beers as did the Gloucester 4 who arrived back from Kirkby Stephen, the Aussie couple we had seen ascending Nine Standards Rigg and two mature ladies, who we never really got chance to talk to but nicknamed 'Posh 2'.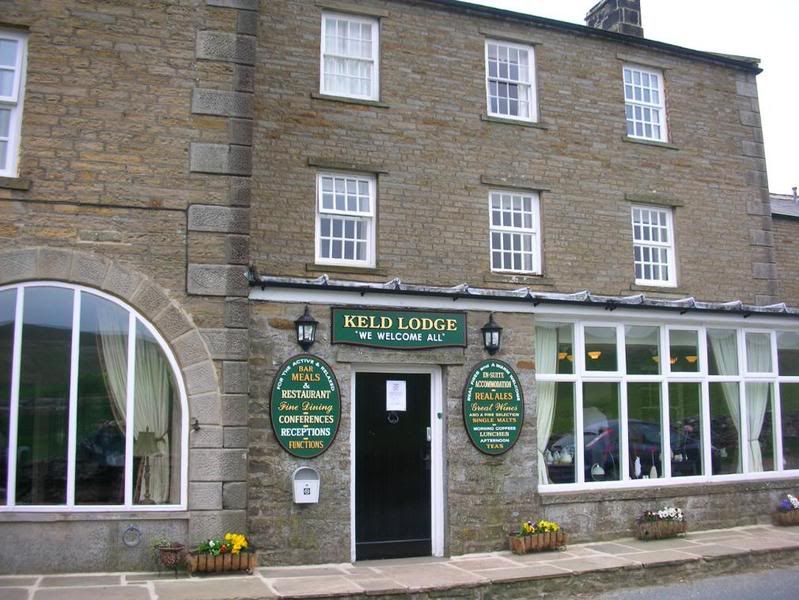 After a few beers I went to my room to get a shower, sort my bag and write a few postcards. I returned to the bar to find Mick and Malc in good form still chatting with the staff and visitors whilst downing a few beers. We started talking about what to have for evening meal and met the South African chef working at Keld Lodge. Mick suggested a hot curry and was invited to sample a dip of curry sauce by the chef. Within seconds of the tasting session Mick's lip was 'on fire' due to the very hot Dave's sauce. He complained for days about his lip being blistered. We ordered our meals for later and continued socialising whilst in turn Mick and Malc showered and got changed. Chas and Dave had been invited to join us for dinner as the lodge was open to non residents for food and drink. This suited the 'geezers' as they had made no other provision for an evening meal.
The 5 of us sat down to our meals all of which were excellent even if Malc's duck main course was more like a duckling! After dinner we sat in the lounge chatting with other guests and visitors including two young men who were walking 5 days of the Pennine Way and were staying on the same camp site as Chas and Dave. I suggested a couple of camping locations to Chas and Dave during the evening and they had settled for a site at the bottom end of the village in Reeth as their next stop over.
We retired to bed content with a great day's walk and socialising knowing we were half way through the walk and in fine fettle. We ordered our breakfast for 8am the next morning as we only had a relatively easy day down the valley to Reeth.