Day 5 – Tuesday 13 May: White Lion Inn to Fell House, Shap.
We assembled for breakfast at 8am and sure enough as promised Margaret served us our meals and provided the packed lunches we had ordered the previous evening. When looking at the cost of the packed lunches i.e. £5.69p each some may think it is expensive – but without doubt they were plentiful and excellent value for the money. We shared the breakfast area with a group of non C2C walkers who didn't want to share our conversations – to be quite honest they were full of their own importance. They were apparently cycling in the area. Enough said of these stuck up…. Anyway with breakfast out of the way, bags sorted for Packhorse, rucksacks loaded with the days needs including the weighty packed lunches and plenty of water on board as it was a long day ahead, we set out towards the footbridge just up the road.
The sun was shining again and the views were excellent. As we arrived at the footbridge I recollect that 2 years earlier it was here that I said farewell to Malc who had walked the first 4 days with me but then had to get a bus to Penrith for train connnections to Sheffield. This time he was going all the way so it was new territory for him. We met Graham and Christine at the footbridge and also the two elderly sisters who explained that due to one of them feeling unwell they were taking a boat trip down to Pooley Bridge and then walking to their overnight accommodation at Bampton from there. Quite a sensible plan I thought as it was long hard day going over Kidsty Pike to Shap.
We set off up the lane to Rooking and then up the often steep path towards Boredale Hause. In my view this section is the hardest of the day so it was maximum effort put in to get us heading uphill at a cracking pace. We were aware that most of the other C2C walkers staying in Patterdale had set off before us so it was inevitable that we would see some or all of them as the day progressed. As we picked our way up the steep path looking ahead for the route we saw the figure of a lone walker with a large backpack heading in the same direction as us. Mick forged ahead as we all agreed that we had not seen this person before so we were intrigued to catch them up to see who it was and what schedule they were on. Mick was the first to Boredale Hause and he passed this intriguing individual and continued towards Angletarn. I could see Geoff, Jane and Jeff in front of Mick.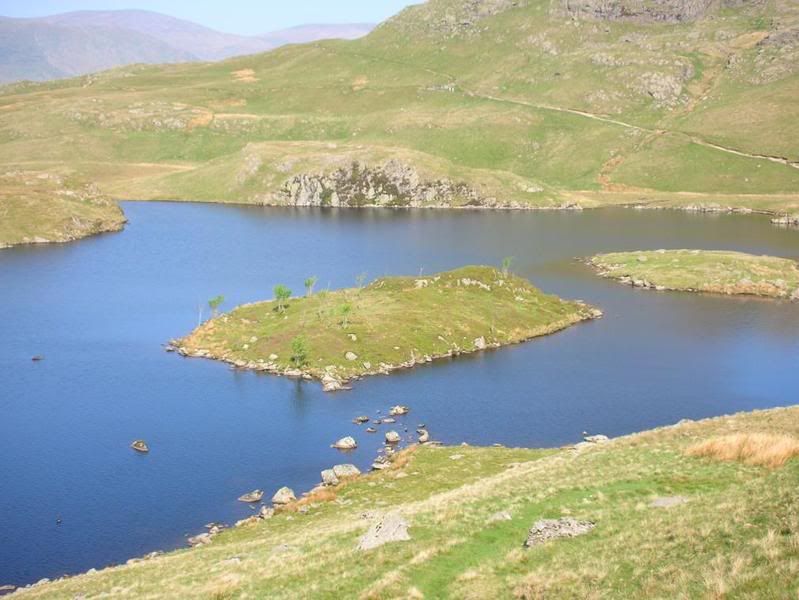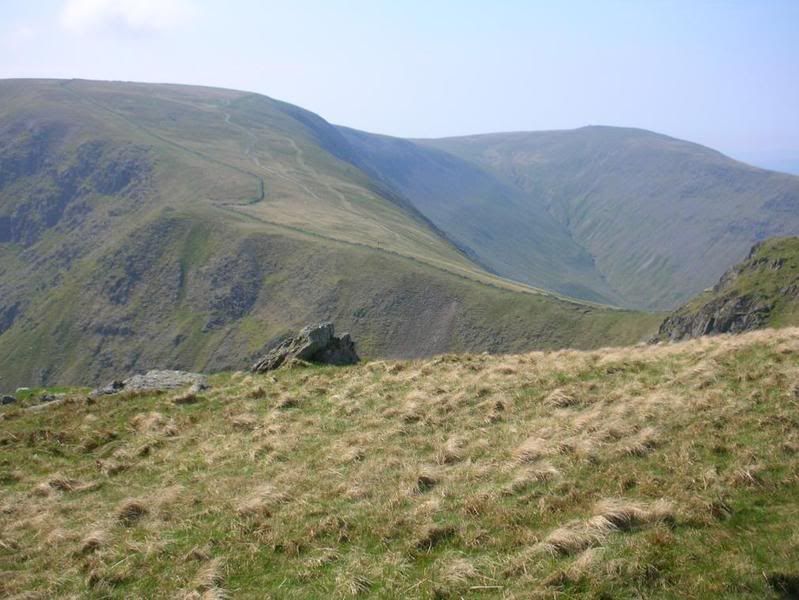 As I approached the solo backpacker I was astounded at the size of the pack and the excellent speed they were walking. Wearing shorts and having suntanned legs I correctly assumed it was a woman and I guessed it would be someone in their 20's or 30's. It shows how wrong one can be – as I drew level the 'lady' and I mean that in every respect stepped aside to let me pass. I said good morning and this was my first meeting with this lady who we called 'Dame Jude from Melbourne'.
I know it is wrong to guess the age of fellow walkers but I know from later information that Dame Jude is in her 70's – wow! She puts us all to shame with our puny daysacks and her rate of walking. What a great woman Jude is. We chatted a short while and I learned she was wild camping and carrying all her own gear plus a heavy load of water. She would camp when she wanted to stop but usually not before 20 miles a day. Malc came up behind and started chatting more to Jude as I forged ahead a little trying to keep Mick in view as I know he did not know the route and expected him to miss the acute turn further ahead to Kidsty Pike. Find out shortly whether I was right.
I passed Geoff, Jane and Jeff and then Roger as I made good progress in pursuit of Mick keeping an eye on Malc behind. The views around Angletarn were excellent. Just below The Knott I stopped to chat with Wendy and Libby, the 2 Aussies and a solo male walker from Santa Cruz, California as they were resting before the ascent. Malc caught me up but Mick was out of sight. It is quite a steady climb up and around The Knott and we made swift progress with the Santa Cruz male trying to hang on to our belts. As we approached the dip just before the sharp left to Kidsty Pike where the path ahead goes upward to High Street I could see Mick ahead – about half a mile up High Street. Whilst Malc and I observed Mick wondering if he had seen us the Santa Cruz walker arrived and he seemed shocked that we turned left and headed for Kidsty Pike. He said 'What about your mate? Are you going to leave him?' 'Yes' was the short sharp answer as we set off to Kidsty.
The visibility was excellent and I had no worries at all about Mick, he was fit and experienced and I expected him to see our route and 'come a running'. Sure enough as I kept looking backwards towards the High Street path I saw Mick start running down the path towards us taking a slight right hand route on the path nearest the wall. We obviously reached Kidsty Pike about 10 minutes before Mick closely followed by the Santa Cruz walker. The usual feature identification followed and I mentioned to Malc and the Santa Cruz walker that Golden Eagles nested in the valley below. We waited for Mick and he explained his feeling when he saw us take a left turn 'Oh *$*$' but he went on to tell us that as he came to the wall looking down the steep crags into the valley he saw a Golden Eagle soaring on the thermals. Mick does not tell lies and he good at bird identification so I am convinced he did see a Golden Eagle. How lucky he was.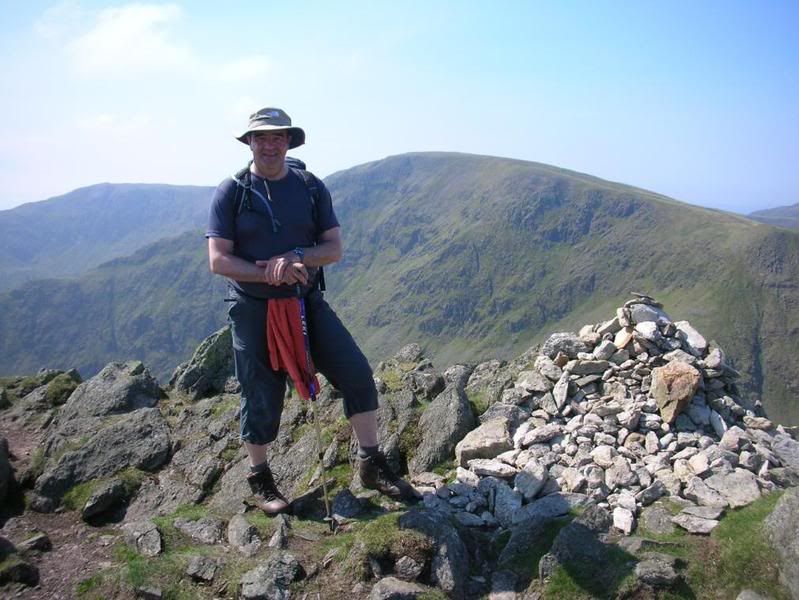 We took a few photographs on the Kidsty Pike summit area and the set off down the gradual slopes to Kidsty Howes where the gradual slopes become steep crags and paths. It was therefore a steady descent down to the path that would take us on a switchback up and down the shores of Haweswater. Along this route we called off at Castle Crag whilst I visited a nearby geocache. We had decided to go all the way to Burnbanks to have our packed lunch by the telephone box at the picnic table and bench. This is a quiet stretch of footpath and we only passed a couple of walkers heading in the opposite direction to us. The best views are actually looking back along the lake to the hills rather than forward towards the dam and the generally flatlands beyond.
We were pleased to take off our boots to get some air to our feet as we arrived at Burnbanks at 1.45pm. It had been quite hot underfoot most of the way. The packed lunches from the White Lion were just the tonic and we had a good half hour lunchbreak before we headed down through the bluebell clad woodland to Park Bridge where we picked up the river as we crossed the lush green meadows on our way to Shap.
The Lake District was behind us now and we were heading towards the Yorkshire Dales. I recollect that 2 years ago pathfinding along this stretch to Shap was not easy in places. We fared a little better this time as I could recollect most of the twists and turns but we did take a little time in finding the footpaths to Parish Crag Bridge which sits between Rawhead and Rayside farms – my advice is do not be tempted to cut too high across the gorse clad heathland following sheep tracks. Follow the path down into the valley to the minor road and then look for the footpath sign cutting up towards Goodcroft. As we neared Shap we couldn't help looking back to the Lakeland skyline – the distinctive outline of Kidsty Pike stands out above many others – have we really walked from beyond there? It brings it home how far we had walked on this day. Shap Abbey sits proudly in the valley just before the final climb up the lanes and fields to Shap.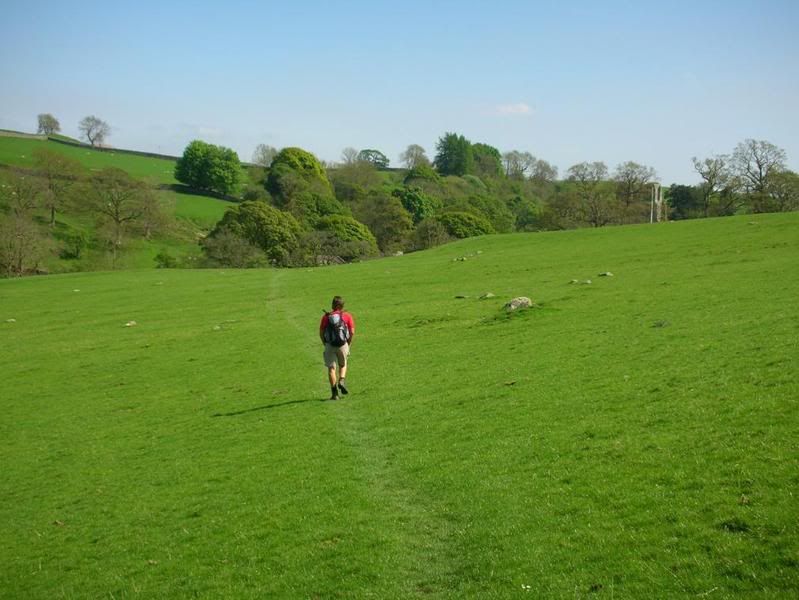 As we approached the village we called by Goggleby Stone, one of the many boulders sitting in the fields around this area, to visit a geocache and then minutes later we arrived near the 'top end' of the village on the A6 a matter of yards from the Bulls Head public house which was open. The fish and chip shop opposite the Bulls Head was also open but we resisted as we had en evening meal planned for the Greyhound pub later that evening. The lure of a cool pint of beer on this hot day proved too much to resist and in we went, through the bar to a peaceful beer garden at the rear.
We were joined seconds later by Martin from Somerset, a solo backpacker doing the C2C who we had not seen before. He was carrying a heavy pack and like Jude we had seen earlier today he was wild camping. The Wainwrights ale was very welcome and one pint turned into two very quickly as we chatted with Martin about his plans and ours. Martin examined his maps to identify a suitable wild camp a few miles beyond Shap and decided on pressing ahead to the Oddendale area. He had wild camped at Angletarn the previous night which must be a popular spot to pitch as I had seen a solo wild camper there on my previous C2C walk 2 years ago. Suitably refreshed Martin set off leaving us to have a final beer before we headed further down the village to our overnight accommodation at Fell House.
Shap is probably the longest village in Britain stretching for over a mile down the A6. I was aware that Fell House was about half way down the village so off we went passing Chas and Dave eating fish and chips on a bench a short distance away. We had a chat with them and arranged to see them later at the Greyhound after they had found a suitable camp site. We arrived at Fell House and were greeted by a friendly Heather, with a bubbly personality, who showed us to our rooms. Fell House is large detached former Quaker residence with large spacious rooms. Heather and Louis had converted part of Fell House into the Mango Restaurant serving Carribean, Mexican, Italian foods. Unfortunately the restaurant was closed on the evening of our visit or we would have dined there.
There was a minor setback as my baggage had not been left by Packhorse. Heather helped me try and sort out what could have happened and I left a message on the Packhorse telephone but in no time at all Simon from Packhorse arrived with my bag. For some reason it had not been collected from the White Lion Inn but Simon had made the extra journey to collect it – many thanks Simon it does not change my view that you provide a first class service and I will certainly use and recommend your services again. I am guessing that staff at the White Lion had moved my bag away from a store room door where I had left it with the other bags thereby isolating it from the other bags to be collected by Packhorse.
Anyway we showered, changed and arranged our bags for the next day before setting off the additional half mile or so to the Greyhound pub at the bottom end of the village. We ordered our packed lunches and chatted with Heather before leaving onto the main street where we saw a very weary Christine with Graham. They were heading to Brookfield Guest House which is the last house in the village beyond the Greyhound. Christine asked how far it was and I must admit to telling a small lie that it was only about quarter of mile when I knew it was half a mile. A short distance down the road we saw Chas and Dave at their camp site – well if that's what you can call it. They were pitched with their £14.99p tents from Argos in a field by the side of the noisy A6. The shower/washing facilities comprised of a cattle drinking trough with a tap attached. 'It's only cost £3 total' said Dave. I thought to myself wild camping would be better.
Now I suppose it's the right time to paint a bit more of a picture of the nomadic cockney geezers 'Chas and Dave' who in my view for many reasons which will become evident were the stars of the C2C crossing. Both used to work on the London underground but had retired. Dave is 67 and Charlie is 60 and both are fit and well. Dave had been involved in a near death accident some years ago which left him was many injuries resulting in numerous plates and pins in one arm and leg. They were obviously good mates who had done quite a bit together including acting as beaters on the estate of a well known Lord in the home counties. They convinced me that this is not a bad job to take on and I will certainly be making enquiries in my part of the world to see if I can get involved. Dave had done more distance walking than Charlie including the part completion of the C2C many years ago but he was back to complete it in one go.
They had set off intending to carry their full packs but had succumbed to the lure of the C2C Packhorse after 3 days due to the heavy weight of their packs. They did not have day sacks and therefore carried their daily needs in flimsy carrier bags. Mick made the comment Ernie – Berghaus Freeflow £50, Malc – Berghaus Freeflow £50 Chas and Dave – Sainsbury's or Morrisons 5p. They were using £14.99p tents purchased from Argos a few days before the trip. They had no pre planned bookings for camp sites but had a map and guide book. The problem with that was that Dave had left his map somewhere early in the walk and Charlie who was reading from a guidebook didn't have his glasses so couldn't read it anyway. They openly admitted later in the walk that if they were unsure of any part of the route, they just looked for other C2C walkers and follow them. Great ploy and it certainly got them across the country. More about these two incredible characters later.
As we nearby the Greyhound we left Graham and Christine to find their way the short distance to Brookfield Guest House. The Greyhound is a large very friendly pub with a reputation for excellent food. We ordered our meals and sat down with Roger. Other C2C walkers came into the Greyhound for their meals including Chas and Dave, Geoff, Jane and Jeff, Wendy and Libby, Graham and Christine. The food and service was outstanding and let us hope it remains that way as the pub has been sold to a large concern who will be taking over in the next couple of months. After our meal we sat and chatted with other walkers over a few beers putting the world to right and wondering how, and if, Chas and Dave will sleep in a cow field by the noisy A6. Somehow I knew they would be up and off early the next morning. We made our way back to Fell House at about 10.30pm where for the first time on the walk I had a solid nights sleep- reminiscent of the last C2C walk when the first solid sleep I had was in Shap – it must be the air around these parts.