Day 4 – Monday 12 May: Glenthorne Guest House to White Lion Inn, Patterdale via Helvellyn and Striding Edge.
Breakfast at Glenthorne Guest House is at the fixed time of 8.15am which suited us as although we had a more strenuous day planned to go up Helvellyn it wasn't a particularly long day for us from a distance point of view. We assembled for breakfast initially in the lounge and then in a queue at the dining room door. We had an enjoyable conversation with some of the other guests some of whom joined us at the breakfast table. The dining room doors were opened at the strike of the bell and all guests entered in an orderly manner and found seats around two circular tables chatting away whilst breakfast was served. This was a new experience for us but we all found it quite a relaxing and informal breakfast time. We were wished well on our walk as we left at about 9.15am to collect a packed lunch in the village and meet other C2C walkers including Roger.
It was another glorious sunny morning and without doubt our plans to include Helvellyn and Striding Edge on our route would come to fruition. The only disappointment was that Malc told us he suffered from vertigo and did not want to join us on the higher level route. He said he was quite happy to go down the Grisedale valley, which he had done with me 2 years ago where he could tag on with other C2C walkers if necessary. He said that he did not want to spoil it for us insisting that we did Helvellyn and Striding Edge without him. I said we would review the situation at Grisedale Tarn as I personally did not want us to split up. It took quite some time to find a suitable sandwich shop in the village as our intended target was the Coop store but they had sold out of sandwiches. Mick and Malc went to the bakery opposite the Red Lion/Lamb Inn whilst I waited with Diane who had arranged to meet her walking partners of Geoff, Jane and Jeff further up the village on our way towards Patterdale.
It took Mick and Malc a little longer than we expected and Diane was getting a little anxious as she had arranged to meet her walking partners outside their B & B at 9am. She decided to set off up the road to find them but as we followed a few minutes later we met Diane who was walking back towards us – still anxious because she couldn't find Geoff, Jane and Jeff. We walked along together until we hit the main Grasmere to Keswick road and sure enough there were her walking partners – it's nice to see a team reunited.
Onwards and upwards so they say and sure enough we left the main road and headed up the track towards Great Tongue where a decision would be made about the left or right route up to Grisedale Tarn. As we arrived at the bridge over Tongue Gill we met Graham and Christine who were chatting with the two elderly sisters we had seen a couple of days earlier. I imparted my recommendation to take the right hand path by the side of Tongue Gill – this was based on sound previous advice given to me by other C2C walkers who favoured the slightly easier and more scenic route. We made good progress up the path to Grisedale Tarn passing Roger about half a mile from the tarn.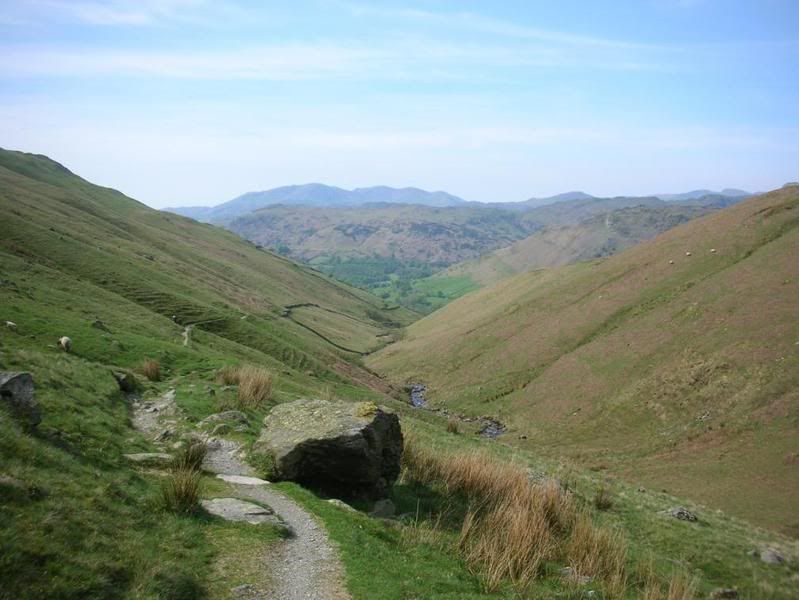 Mick was making the pace for us on this section and he reached the summit area of the path first. We had a great view of Grisedale Tarn and the surrounding hills from here. The tarn was set just below our viewpoint and we looked across to the route ahead onto the Helvellyn range i.e. via the zig zag path going up to Dollywagon Pike.
The weather was perfect for hillwalking with warm sunshine and a slight breeze. We slowly walked down to the edge of the tarn where Malc would give us his final decision about which route he intended to take. His mind had been made up and he opted for the Grisedale valley route. As we walked down towards the cluster of rocks at the head of the tarn we saw two males in front of us who seemed to be wandering around aimlessly off the path area with carrier bags. We never thought for one minute that they were C2C walkers and assumed they were picking berries of some kind. It wasn't until several days later that we were able to identify these two strange looking characters as Chas and Dave the two cockney geezers mentioned by Graham in Borrowdale – a lot more to come about Chas and Dave later.
Roger joined as at the head of Grisedale Tarn and after a few minutes we parted company with Malc who set off down the valley route whilst we started the zig zag ascent to the summit of Dollywagon Pike. We made excellent progress all the way, occasionally stopping to take advantage of the expanding Lakeland skyline and taking a few photographs. We met up with a solo male walker/photographer on the way up and chatted with him about the beauty of the area and the excellent views on offer today.
We reached the summit of Dollywagon Pike in glorious sunshine. The views across the Lake District were excellent if a little hazy in the distance but we spent some time identifying the many peaks on show. The male photographer suggested the panoramic view from this point was better than the view on offer from Helvellyn – who am I to disagree – the views were stunning. I took a few photographs including one of Mick and Roger with the imposing Striding Edge in the background. On we went, firstly to Nethermost Pike and then onto Helvellyn passing the memorial, the shelter and finally arriving at the trig point where we settled down for a packed lunch looking down onto Red Tarn.
As we walked along the tops from Dollywagon Pike to Helvellyn we had seen the procession of walkers making their way up Striding Edge and it was no surprise to see quite a few people around the summit area. I visited a couple of geocaches whilst on the summit area before sitting down with Mick and Roger for lunch. How lucky we were to be on Helvellyn in weather like this.
We spoke to several people around the summit area most of whom had ascended via Striding Edge and strangely two separate groups looked aghast at our intentions to go down Striding Edge – I don't know why really because whatever route you take if you take your time and act sensibly both routes are safe. Roger wanted to spend further time absorbing the views from the summit area so Mick and I set off down past the shelter to pick up the very steep upper reaches of Striding Edge. As we passed the shelter we engaged in conversation with two male walkers of the older generation one of whom said 'Which part of Yorkshire are you from?' This led to discussions about 'gods own county' and we learned that one of the men, Peter was from Barnsley in South Yorkshire but he had lived in Cumbria for 40 years. We were to meet Peter by chance at the White Lion in Patterdale later that afternoon.
As we were about to leave the shelter area a male walker, having ascended Striding Edge, shook my hand and said 'Nice to see you again – I see you made it. Did you get caught in the thunderstorm yesterday?' I did not recognise him but as we chatted he was a man I had passed and spoken to on the Helm Crag ridge the day before. There had been a brief thunderstorm on the hills during the Sunday evening and he had been caught out in the storm. When I told him we were heading down the Edge he inspired us by saying 'You must be mad'. Just what we did not want to hear at that point but undeterred we started the slow descent down to the first ridge on Striding Edge.
The upper slopes of Helvellyn at this point are now a maze of paths leading up or down to the true start of Striding Edge. On my last ascent of the Edge I don't recollect there being so many options for routes to the top. We passed several people who were on the way up but Mick took a slightly different route down than I did and he arrived at the first ridge that had to be ascended in order to progress – no side routes around this one I'm afraid it's up and over. Mick made it to the top before me and I was then delayed as a male and female were coming down so I waited. The female was at the front but she became 'cragfast' and I climbed upward to take her rucksack from here and help her down to the relative safety at the bottom of the scramble. Her male companion came down unaided afterwards. I then quickly ascended the crags and as I reached the top saw a group of 3 walkers resting before taking the downward steps. For some reason my GPS became detached from it's clip fastening on my rucksack strap and it fell. I thought it was lost but fortunately it only fell a couple of feet into a small hollow from where I hastily retrieved it. By now Mick was making swift progress across the series of ridges so I set off after him. There were not as many people ascending as we had seen earlier but there was a mix of the prepared and ill prepared – yes there was a walker in sandals and several in flimsy footwear – when will they learn.
Mick and I teamed up again a between High and Low Spying How and set off down towards Grisedale. The views were fantastic down into the valley and I was able to pick a few potential C2C walkers out as we went along. Mick was obviously thirsty for a beer as he strode out in front purposefully with 'pub' in mind. I had to visit a geocache on the way down so I said I would meet him at our overnight accommodation, the White Lion Inn, where Malcolm would be waiting. I lost sight of Mick as I reached the lower parts of the path leading towards Glenridding. I visited the geocache and made my way towards the White Lion.
It was quite hot down in the valley with little breeze and it was no surprise to me to see Mick with a pint of beer sitting on the floor at a table in the grounds of the Patterdale Hotel talking to Graham and Christine. I went to them and had a chat but left saying I would see Mick at the White Lion where I expected Malc to be waiting. I arrived at the White Lion and there was no sign of Malc but I quickly confirmed he had arrived safe and well, had a few beers, booked in and gone to his room. It was tempting to have a beer but I decided to book in, have a shower and then return outside for a beer. Malc was sharing a room with Mick and as I looked in on him he was in his usual afternoon/early pose of prostrate on the bed giving out some big ZZZZZ's.
It didn't take me long to get my kit sorted and have a shower and I then went into the bar for a drink. Mick arrived and we chatted to Margaret who served us. She told us that she would be serving our breakfast the following morning so it was appropriate to be nice to Margaret for obvious reasons. I telephoned a mate, Kenny, who is now living in South Yorkshire but who was from Patterdale. He told me he had paid us a drink on at the pub – this proved to be untrue and Margaret, who knows him well told us he owed everyone in the village a drink - come on Kenny get your act together.
I went outside to enjoy a drink in the sunshine where I introduced myself to Chas and Dave the two cockney geezers. What characters they proved to be and great companions to have along much of the remainder of the walk. They were camping in the village and although they initially started out carrying all their gear they had a change after 3 days and arranged for the bulk of their gear to be carried by C2C Packhorse. They were walking carrying only small supermarket carrier bags. We didn't realise it at the time of this first meeting but they were indeed the two wanderers we had seen earlier near Grisedale Tarn. They were not picking fruit – they were 'lost C2C walkers'. This phrase will mean more to readers of this journal as our cross country journey continues.
Mick and I had a few drinks in the pub and we were joined by Peter who we had met on the summit of Helvellyn. What a great character Peter is and we've only just met him. We chatted about walking and of course South Yorkshire. Peter told us he intended visiting Barnsley in the not too distant future and Mick gave him he email address to contact us for a walk up and around Margery Hill, a location that Peter knew very well. Margery Hill is the highest point in South Yorkshire.
The next hour of so passed quickly as we finalised our baggage for the next day and then met in the bar area for our evening meals. As the evening progressed we chatted with several other C2C walkers including Geoff, Jane and Jeff, Roger, Graham and Christine, Chas and Dave and the two elderly sisters who had ordered a salad meal each that was big enough to serve 3 people. We had various meals all of which were excellent value for money and very welcome. Several beers later and it was now 10.30pm and I was ready for bed. I still had not had a good nights sleep but nevertheless felt fit and well and refreshed every morning.