Day 13 – Wednesday 21 May: High Blakey House to Intake Farm, Littlebeck.
We had booked another 8am breakfast and the three of us were first into the dining room ahead of the two other walkers who were brothers called John and Brian from Doncaster. What is it about this walk that attracted so many people from Doncaster? It was to be another coincidence that Mick and I knew one of the brothers, John, but it took me a few minutes to recognise him. As soon as John walked into the room I recognised him but could not recall where I knew him from. Mick felt the same. They were also due to finish at Robin Hoods Bay on Thursday 22 May but would not be able to make the end of walk evening drink as they were being picked up by Packhorse and transported back to Kirkby Stephen where they had left their vehicle.
We chatted over breakfast about the walk so far and occasionally trying to work out where we knew John from. I finished breakfast and John asked if we had seen the view over Rosedale from their bedroom and I went in to look. It was at this point that I worked out where I knew John from and we each acknowledged our respective professional roles that caused us to meet on several occasions in the past. I agreed to play along with John teasing Mick about where John was from and we agreed on a plan to tease Mick at Robin Hoods Bay by saying John was involved in a Doncaster restaurant. Mick would have been gutted by not recognising John from a restaurant as he loves his food, is a good cook and knows all the Doncaster restaurants very well. The views from their bedroom were equally stunning as from the lounge - floor to ceiling, wall to wall double glazed units. Their room was even bigger than ours. This is yet another place I must highly recommend to C2C walkers.
Breakfast out of the way, farewells and thanks to Kath and we were off on our longer than average day at 9am. From the Lion Inn we walked up the road and turned right towards Fat Betty, a distinctive stone monument by the side of the road PHOTO. I also visited a geocache nearby. We could see John and Brian following although they cut across the moor on the path avoiding some road walking. We also saw Christine striding out along the road behind us. We had planned to call in at the Arncliffe Arms in Glaisdale for our lunch – and of course a few beers. The Arncliffe Arms has a good reputation for food and ales as I had witnessed two years earlier.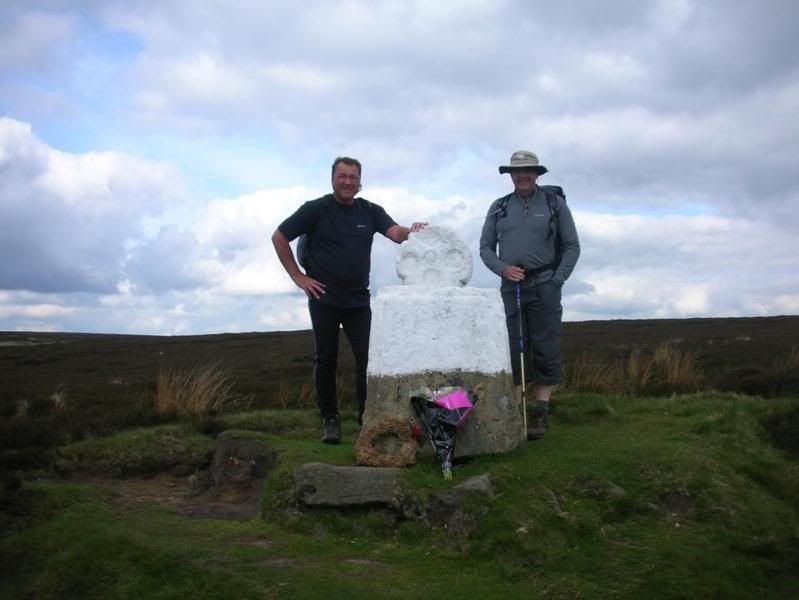 There was a further section of road walking beyond Fat Betty until we turned right along a track leading to the derelict Trough House at the head of Great Fryupdale. As we left the road we saw a dead lamb by the gate with an anxious ewe a short distance away. The lamb had clearly been struck by a vehicle and left dead or dying by the road side – quite a sad sight and untimely end to this youngster's life. We rounded the head of the dale on the Cut Road path across Glaisdale Moor and onto the minor road leading to the trig point on Glaisdale Rigg where we turned right down the track along Glaisdale Rigg and down to the village.
On the way down the Rigg I took a short detour to visit a geocache asking Mick and Malc to wait for me at the end of the Rigg. I found the geocache quickly and returned the short distance to the main path but there were no signs of my colleagues at the suggested meeting place. I made my way down through Glaisdale village and was not surprised to see they had made it to the Arncliffe Arms pub as they sipped their first beer in the bar area. We arrived at the pub at about 12 noon – perfect for ordering a lunch. I ordered a soup as did Malc whilst Mick ordered some fancy starter including goats cheese. Three beers later and after Mick and the landlady lured us into a trap by talking up the desserts, Malc and I ordered sweet lemon and ginger pudding. It was excellent but realistically we didn't need it on top of 3 pints of bitter and a soup and rolls.
The Gloucester 4 arrived at the Arncliffe Arms a short time before we left and we chatted a while. I left the pub before Mick and Malc as I wanted to visit a geocache near Beggars Bridge which was found quickly and I took a few photographs of the bridge and surrounding area. I briefly met John and Brian at Beggars Bridge and also Christine. They were almost ready to move off before I arrived and I listened to John adding commentary to his camcorder video of the bridge – John was reading from one of the guidebooks about the walk. I waited for Mick and Malc near the bridge and showed the impressive structure before we headed off on the path through Easy Arncliffe Woods.
This piece of woodland was also resplendent in spring flowers including bluebell and wild garlic. As we walked through the woods I paused to look at the memorial bench to two dogs referred to by Wainwright in his original Coast to Coast guidebook. As we emerged from the woods we descended a quiet lane to the village of Egton Bridge where we saw John, Brian and Christine having a beer outside the Horseshoe public house. I'm sure Mick fancied another beer but with three pints already on board and a distance to go he continued along the road through the village. We picked up the two miles long fairly flat track from Egton Bridge all the way to Grosmont noted as a steam railway terminus/start over the North Yorkshire Moors.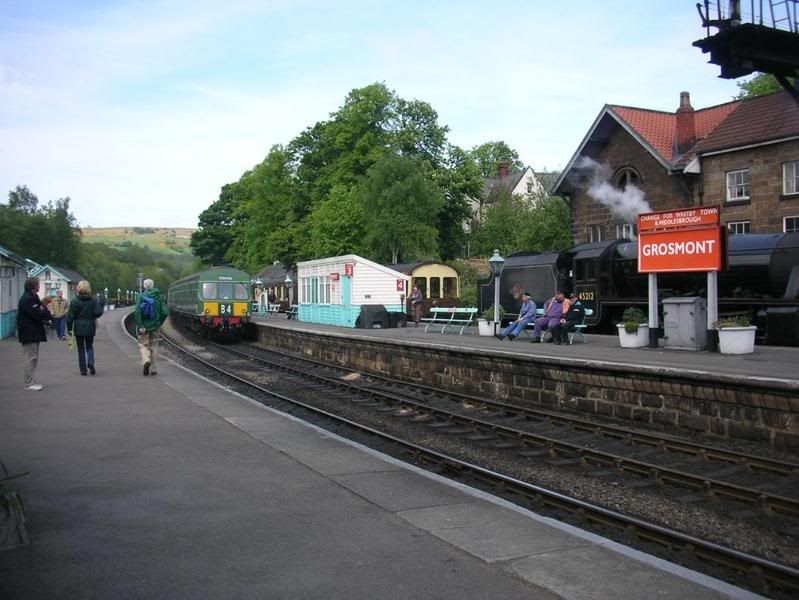 Malc and Mick had a good look at the old Pullman train carriages and the stream trains at the station. Both seemed very interested in returning to the steam railway to take advantage of an offer that included an evening steam train journey to Pickering and back to Grosmont with a three course meal served during the journey. I believe the cost was about £42 each. As we were ready to leave up the notorious Grosmont road hill we watched a steam train arrive. The Station Public house was a potential distraction to the final stages of our day's walk but we all managed to walk past it and onward up the hill (a one in three hill in several locations). It brought a wry smile to my face as we ascended and looked to the left where I could see the ever expanding views of Whitby and the North Sea. Not far to go now!.
We kept moving up the hill and then cut across Sleights Moor to the A169 and then down the main road for about 400 yards to the track leading down towards Intake Farm via High and Low Quebec Farms. I had been down this route two years earlier so pathfinding was easy and in no time at all we arrived at our destination of Intake Farm sitting above the village of Littlebeck. We were met by Judith who showed us where to put our boots and invited us into her working kitchen for a piece of cake and some tea. Dave and his border collie Ron had not arrived but two other guests, an Australian couple from South Australia had already arrived.
Judith told us dinner would be served at 7pm as usual and we were shown to our rooms. This would be an alcohol free night and also the Champions League Final between Man Utd and Chelsea was on TV which we were invited to watch in the lounge with the other guests. I showered and changed then sorted my gear for the last days walk. I contacted my wife and chatted for a while then rested on the bed.
Judith served us and Dave with a first class three course meal at 7pm and we chatted as we ate. The Australian couple did not have an evening meal with Judith – their big mistake that's all I can say as the food was excellent. Another must stay at B & B on the C2C walk I'm afraid. We finished our meals just as the football was starting and we were joined in the lounge by the Aussie male. Enough said about the football which was a bit of an anti climax as Man Utd won on penalties after extra time when the scores had been 1-1. Football over and it was straight to bed ready for our last day walking the C2C.