Day 12 – Tuesday 20 May: Ingle Hill to High Blakey House, Blakey Ridge.
We went down for breakfast at 8am and were joined by the Sussex 2. Margaret had everything organised and was scurrying in and out of her kitchen with our breakfast's, extra toast, tea, coffee etc – looking after her flock of guests as if they were her own children. What a remarkable and wonderful lady she is. Len was already up and ready for his day in the garden although Margaret told me that had wanted to go to the village garden centre and that she wanted to get out of the house for an hour and was looking forward to the trip. It was a relaxing breakfast as we chatted with our hosts and other guests before booting up for the off up the hill to the Wainstones. We were heading for High Blakey House opposite the Lion Inn at Blakey Ridge and could not gain access until after 3.30pm. I knew we were likely to be at the Lion Inn by about 1pm based on my time 2 years earlier so it would be a lunch with a few beers at the Lion Inn before booking in.
We left at 9am heading up the road through the village to the track leading up through the plantation. As we left we understood that the Sussex 2 were calling a taxi to take them up to Clay Bank Top but as we walked along the road at the top end of the village we heard a car horn sound and turned to see Len and Margaret driving up towards Clay Bank Top with the Sussex 2. I suppose it was convenient for Len as he wanted to go to the garden centre which is on the road between Great Broughton and Clay Bank Top but personally I'm not into getting lifts.
What is the point in getting lifts when you are on a walk across Northern England, would an extra mile and a half each day have caused too much distress- doubtful. We had given Geoff, Jane and Jeff a bit of verbal banter about getting a lift from and to Clay Bank Top but they were going all the way to Glaisdale so had more of an excuse that the Sussex 2 who were only going to the Lion Inn at Blakey Ridge.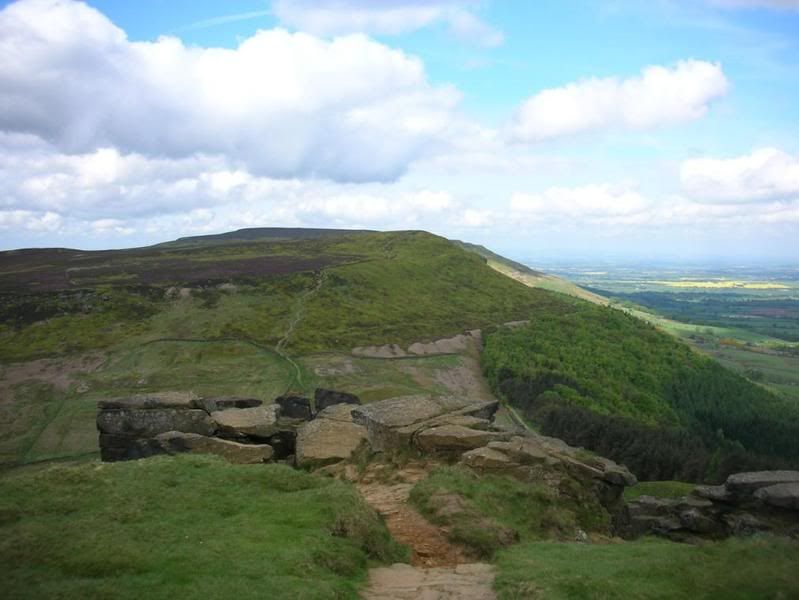 Anyway motivated by the other walkers getting lifts we made swift progress up through the plantation to the Wainstones where I took a few photographs before we set off across hasty bank and down the steep steps to Clay Bank Top. We arrived at 10.15am – not bad really as we had walked three and a half miles in just over an hour. No time to waste so we pushed on up to Carr Ridge quickly and then to the Urra Moor/Round Hill trig point.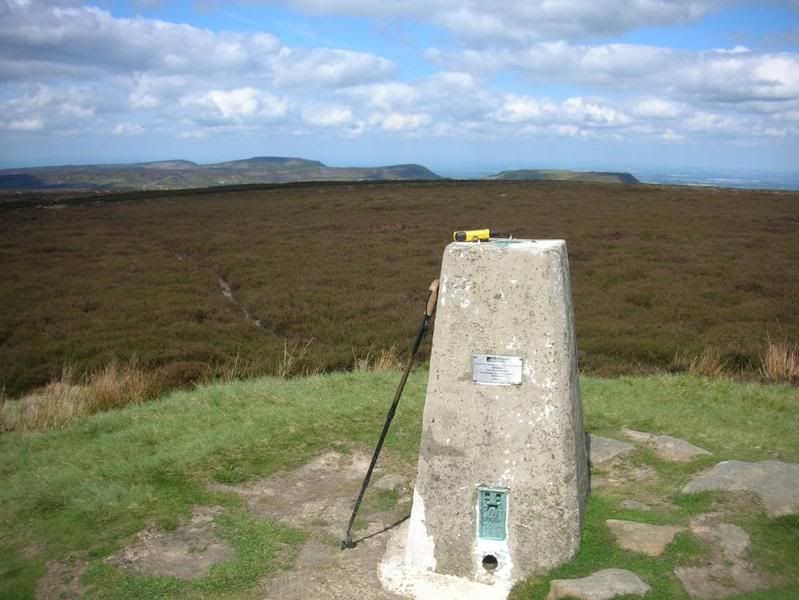 The distinctive tracks were evident across the moors and as we approached the bloworth crossing I could see the Vancouver couple with their 9 months old son in front of us. I was aware that they had stayed at Maltkiln House, Urra and had probably cut up the hillside to Round Hill directly from their B & B. We caught them up at bloworth crossing where they had decided to have a break as their son was a little restless. We chatted a while and I knew they were staying at the Lion Inn and we would see them later.
The route from this point follows the old railway as it contours around the hillside above Farndale and it is generally flat. The weather today was fine and visibility good so it was more pleasant than it would have been walking this old railway in the rain and low cloud. We continued to make good progress and first passed a solo Canadian woman called Christine who worked as a forester. She was caught by us having a snooze by the side of the track. About 200 yards further on the track we saw and acknowledged the Sussex 2 sat just below the track having a packed lunch. No time to stop here – the call of the Lion Inn beckons and in no time at all we were at the pub taking a few photographs and ordering a beer which we consumed outside.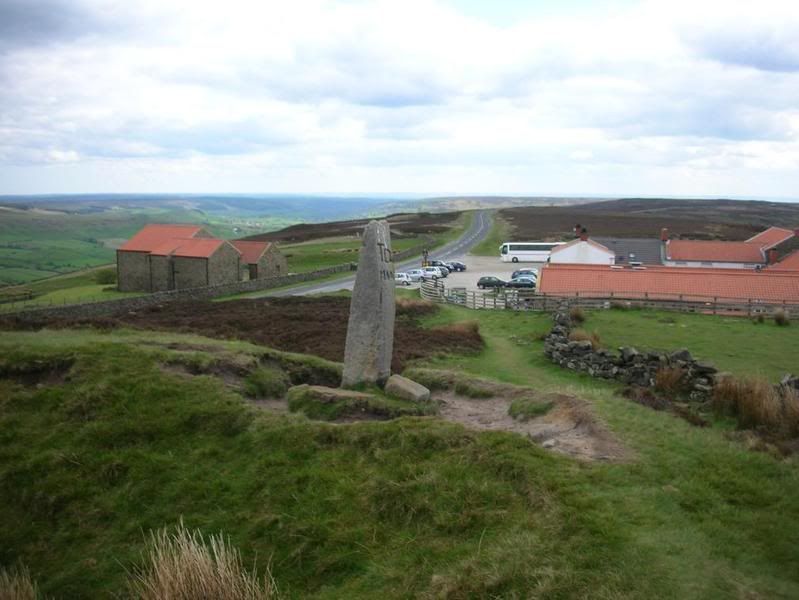 We decided to go inside the pub for a spot of lunch and few more beers where we met/joined other C2C walkers, some of whom were already there but others who arrived in the following hour or so. The Lion Inn has a reputation for good food and beers and although it was midweek the pub was busy with customers all afternoon. We sat down and chatted with the 2 Manchester ladies but they were soon on their way to Glaisdale. We then chatted with Christine from Canada (who we had caught having a hillside snooze earlier) and a first time meeting of Dave from Bingley who was accompanied on the C2C by his extremely well behaved and rather timid border collie called Ron. Dave was heading for the Glaisdale valley today and then to Intake Farm, Littlebeck tomorrow where we were also staying. The next to arrive were the Vancouver couple and their 9 months old son and they quickly booked in to their room. We spoke to several other walkers and customers during the afternoon and it was soon time to book in at High Blakey House over the road from the pub.
Kath, the proprietor, was doing a spot of varnishing on some of her garden furniture as we arrived but she quickly put the brush down and welcomed us into her home. Kath made us tea and scones and we sat in her wonderful spacious lounge looking out of the floor to ceiling, wall to wall double glazed units, across Rosedale. The views from the rooms are absolutely outstanding. We were told that two other C2C walkers were due to arrive at High Blakey House. We were showed to our rooms which were extremely spacious, very comfortable and decorated to a very high standard. We showered and changed, sorted our kit and at 6.30pm off we went back across the road to the Lion Inn for our evening meal and of course a few beers.
We had an excellent meal at the Lion Inn and spent the entire evening in good company chatting to other C2C walkers and also a couple from Montreal, Canada who were walking and touring in the area. We also chatted for some time with a young couple who were with their baby. The couple were a Geordie farmer with his Austrian wife in their twenties. The couple had met whilst doing voluntary work in South America and they had quite a lengthy conversation with Malc in particular as he had been to the same area's of South America as they had. Malc went a little bit strange on us at dinner, as he ordered a nut roast vegetarian meal – nothing wrong with the meal but what has happened to Malc? Is the fresh air getting to him? We all headed back to High Blakey House at about 9.45pm ready for a longer next day, which would see us walk about 18 miles down to Glaisdale and through Egton Bridge and Grosmont to Intake Farm, Littlebeck.