Day 11 – Monday 19 May: Park House to Ingle Hill, Great Broughton.
Breakfast had been arranged for 8am and it was nice to see that Malc was feeling fit and well. The breakfast was excellent during which we chatted to the Sussex 2 and the Vancouver family. Park House is a must for C2C walkers – you have been warned – do not miss the opportunity to stay here as you will not be disappointed. We set off just after the Sussex 2 and as we joined the track up through Arncliffe Woods we met Roger who was passing. I walked up through Arncliffe Woods with Roger whilst Mick and Malc followed a short distance behind. We passed the Sussex 2 going through the woods. Arncliffe Woods is a picturesque woodland covered in the usual spring flowers including bluebells and wild garlic. The fantastic early morning views and the smell of fresh air as we walked through the woods was uplifting. We were heading for Ingle Hill at Great Broughton today with a planned lunch stop at the famous Lordstones café at Carlton Bank. We had mentioned meeting other walkers at Lordstones for a farewell e.g. Roger was walking ahead of us to Chop Gate. Chas and Dave were heading to Blakey Ridge – would this be the last time we would see these characters? I think not.
The ascent through Arncliffe woods was relatively easy as it followed good paths firstly diagonally right and then diagonally left until we hit the ridge along the summit area passing the various masts at the TV station containing the TV, radio and telephone dishes and then the trig point hidden from view of the path over the wall on the right. We left the woodland ridge path onto Scarth Moor with open views ahead to a series of hills that we would be visiting during the day.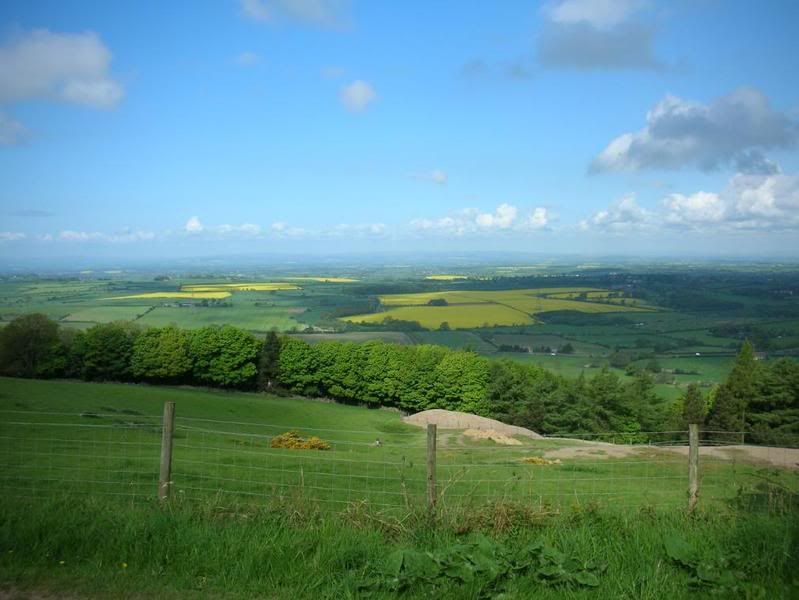 There were no signs of other walkers ahead and Roger had decided to stay behind us in the woods. It was an easy gradual descent to the road at Scarth Nick which we crossed to enter Clain Wood via wide forestry tracks leading around Whorlton Moor to our next road crossing near Huthwaite Green. As we approached Scarth Nick we saw 4 walkers approaching from the minor road to our right. We had not seen them before but as we met at Scarth Nick we chatted a while and they were also doing the C2C walk but at a leisurely pace. They walked together and behind us as we rounded the woods and descended to Scugdale Beck and up the lane to Huthwaite Green. I could see Geoff, Jane and Jeff in the distance entering the next piece of woodland giving access to the steep climb onto Live Moor.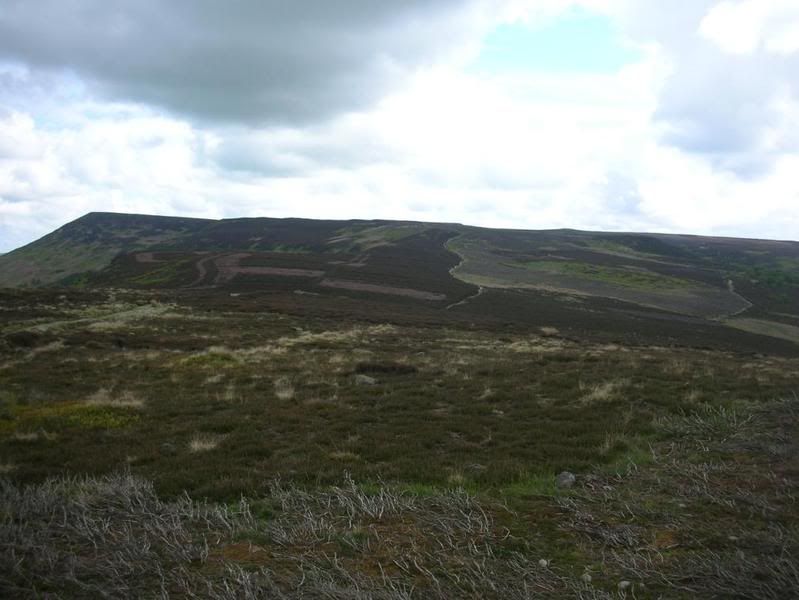 Once again we crossed a minor road at Huthwaite Green and followed the well marked track into the woods known as Live Moor Plantation. We caught up with Geoff, Jane and Jeff as we started to ascend the steepish path through the woods and out onto the lower reaches of Live Moor. The final ascent onto Live Moor is gradual on flagged footpaths most of the way. Mick and I waited for Malc at the large cairn on Live Moor before continuing an easy walk over the tops with a bit of up and down towards the trig point and stone marker posts on Carlton Bank. As we walked along I could see the very distinctive figures of Chas and Dave further along the ridge towards Carlton Bank I set off in pursuit of the geezers passing the gliding club and then I actually got to within 30 metres of them as they stopped for a short time at the trig point on Carlton Bank but they clearly did not recognise me with my red fleece hat on as they set off on the steep descent towards the minor road at Carlton Bank where the Lordstones café is nicely hidden away from the road.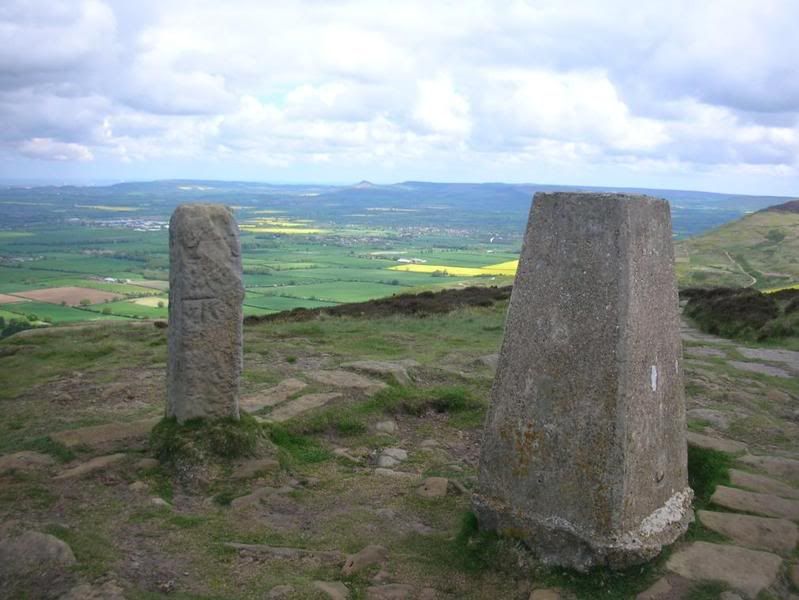 As I descended towards Lordstones I caught Chas and Dave up and they seemed genuinely shocked that it was me under the red fleece hat and apologised for setting off from the trig point before I had reached it. I forged ahead and reached Lordstones café first where I ordered three pots of tea for Mick, Malc and myself. Chas and Dave had joined Malc and Mick and they walked around the corner towards the seating area in front of the café together. I ordered a soup and roll for my lunch and just sat enjoying the sunshine and chatting as other C2C walkers arrived, firstly Geoff, Jane and Jeff and then Roger. Mick discovered that the beer on sale here is very cheap and he managed a couple of pints. He missed the fact that the John Smiths Smooth was only £1 a pint and went for a brew at £2 a pint. Malc commented that Chas was holding his trousers up with three pieces of string that had been tied together – he looked a bit like the scarecrow character 'wurzel gummidge'. Malc was carrying an unwanted belt and kindly gave it to Chas to replace the string. We had time for a few photographs before each mini group of us set off on different schedules to our next destinations. I would suggest that the Lordstones café is another must stop location for walkers on the C2C walk with excellent facilities and food.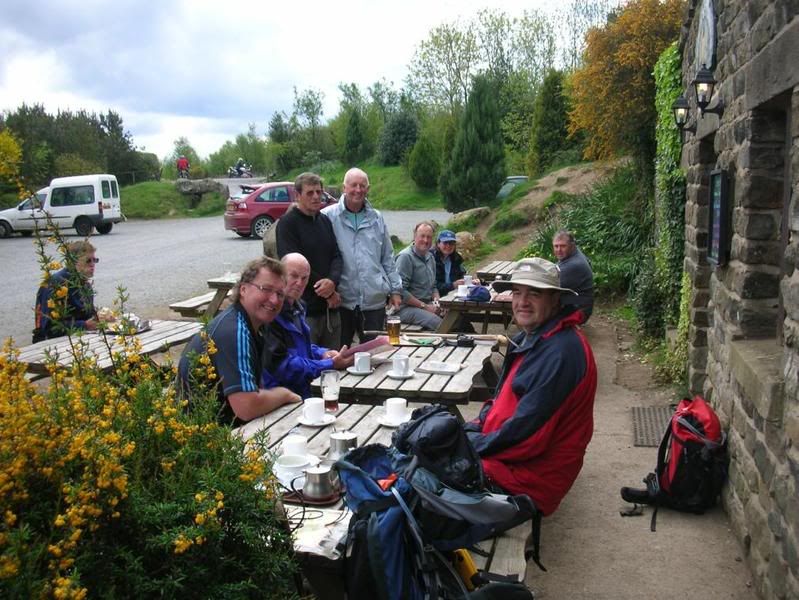 Chas and Dave set off first as they were walking the furthest distance of us all to camp at the Lion Inn on Blakey Ridge. The schedule of these characters had now changed and it meant they would probably arrive in Robin Hoods Bay a day before us on Wednesday 21 May but they had decided to visit Whitby in their spare time and stay an extra day in Robin Hoods Bay to wait for us to finish on the Thursday to join in the post walk celebration. At least they couldn't get lost on the trek to Blakey Ridge – could they? We were the next to leave on our way to Great Broughton. Roger was staying in Chop Gate which meant a detour off the route to the east. Geoff, Jane and Jeff were walking to Clay Bank Top where they would telephone their hosts for a lift down into Great Broughton village about one and a half miles away to the west. We were walking to the dip just before the Wainstones rock formation at Garfit Gap and then cutting left down the hillside through Broughton Plantation and down into Great Broughton village.
As we ascended Cringle Moor Mick forged ahead of Malc and myself and we didn't actually join with him again until we met him at the Black Swan pub in Kirkby village - more of that later. He was happy with the route ahead and wouldn't get lost so there was no real problem. Onward and upward we went passing the Alex Falconer memorial and then Cringle Moor summit before the next descent and ascent to the final summit before our detour below the Wainstones. We passed Chas and Dave who were sat just below the last summit starting their packed lunch. In typical Chas fashion he had the guide book opened and asked 'Where the *&$% are we on this map'. I pointed it out but wondered if it would make any difference to their journey to Blakey Ridge – no, not really. As we traversed the summit we saw Mick entering Broughton Plantation on the descent to Great Broughton. The descent to this col is steep and progress was a little slower than normal but we were also soon heading down through Broughton Plantation. It is quite a steep and slippery descent and Malc commented that he was pleased we were not walking up the path – 'but we are Malc tomorrow morning to rejoin the route where we left it below the Wainstones'.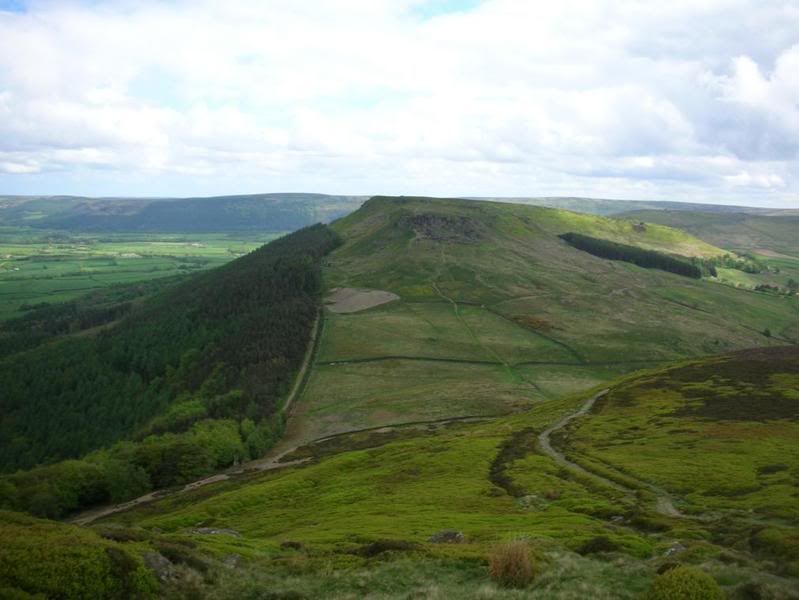 It was quite a warm afternoon and we were ready for a few beers. I expected to see Mick outside the first pub we passed at the top end of the village, the Grey Horse but no signs and then my telephone rang – it was Mick. He had been told by a local that the best pub for a drink was the Black Swan and all we had to do was turn left at Great Broughton crossroads and the pub was on the left. As we followed Mick's instructions and walked along the road towards Kirkby village I thought to myself 'I've been in this village before but never seen the Black Swan'.
We arrived at the Black Swan in Kirkby village half a mile from Great Broughton crossroads to see Mick sat on a grassy area outside with a pint of beer – he quickly bought me a beer and Malc a pint of coke and we all enjoyed a rest in the sunshine and talked to a local resident for about 20 minutes as we each bought a round of drinks before heading off down the village towards our accommodation a few hundred yards the other side of Great Broughton crossroads. One final point, it was well worth the extra mile to visit the Black Swan pub for a drink.
We arrived at Ingle Hill, our overnight B & B accommodation, at 3.30pm and actually met Len outside as he was tending to his garden. We were quickly introduced to his wife Margaret and made to feel part of the family. Len and Margaret are both in their mid 80's and full of energy and life. I had read many previous logs and journals from walkers who have stayed here. All of them commented about the quality and friendliness of our hosts and I had really looked forward to our stay. We were shown to our rooms and then invited into the rear conservatory for tea and scones. What becomes evident from the point of the first meeting with Len and Margaret is how devoted they are to each other and their family but equally to ensuring that their guests are well looked after and made to feel welcome. There are family photographs all around the house which shows how strong the family bond is. It was quite sad to hear that one of their daughters died of lung cancer at an early age of 45 despite the fact she never smoked or frequented smokey places. Margaret showed me a book written by Elizabeth Gregson about her journey on the C2C walk titled 'A wife on the walk'. The books were on sale for £3.99 via Margaret and the proceeds would go to the Roy Castle cancer appeal – it took me a split second to say I would have a copy and I donated £5 for the book.
Margaret was hobbling a little and explained that she had undergone a recent operation that had slowed her up a bit. It sounded like a serious operation to me and I really hope that Margaret makes a full recovery soon and becomes totally mobile as she is much loved by all. We admired the perfection of their house and gardens and you can see that Len spends the majority of most days gardening but he admitted it is getting harder to keep top side of it. The size and scale of his gardens are difficult to explain but an example of how many self grown plants were ready to be planted may illustrate it i.e. 350 plants. The views from their garden are outstanding.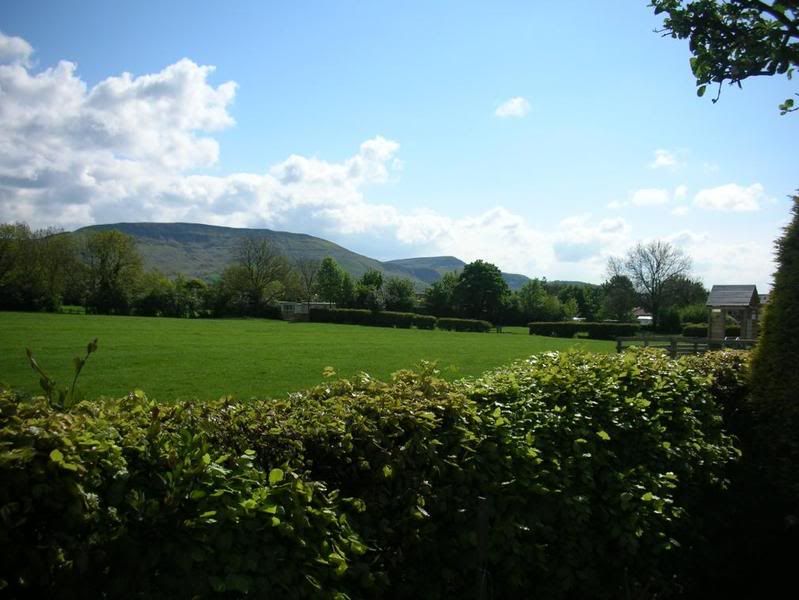 We were aware that the Sussex 2 were also staying at Ingle Hill and that they had anticipated a lift from Clay Bank Top as this is a service offered by our hosts when their daughter, who lives next door, is at home. Len and Margaret's daughter was on holiday. Margaret didn't particularly like Len driving alone to Clay Bank Top so when the Sussex 2 telephoned asking for a lift from Clay Bank Top Malc and Mick took the car keys and set off in Len's car to collect them and they returned a short time later at 5.15pm. We had a chat with our Sussex colleagues as they were served tea and scones by Margaret before we headed for a shower and to sort our kit out. I had a hot bath and sorted my gear out then telephoned home and a short time later we were off out into the village for our evening meal.
On the last occasion I stayed in Great Broughton I dined at the Jet Miners pub. The food had been good but the service slow but I put that down to it being a busy Saturday night. I had heard mixed reports about the Jet Miners now and we decided to call in for a beer to test it out. The beer was fine but there was something about the pub that put us off. Geoff, Jane and Jeff came into the Jet Miners for a drink after they had taken their meal at the Wainstones. The Jet Miners is in need of refurbishment and whilst it is possible that the food was OK, we decided to walk down to the Wainstones Hotel for our evening meal.
When we arrived we hit the jackpot as there was a Monday night Special offer of an 8oz sirloin or rib eye steak with chips and coleslaw for £4.99 with additional costs for sauces and other extra's if necessary. The food and beer was good and it is well worth other walkers making a note about the potential of a Monday night special at the Wainstones. We had a few beers and then Malc and I headed back to Ingle Hill, followed by Mick a short time later. As we arrived back at Ingle Hill just after 9.40pm Len was still out in the garden and Margaret was ironing some sheets – what a shining example to us all they are. Malc and I chatted to Margaret for a while until the news started at 10pm when as if like clockwork Len appeared and both settled down to watch the TV, Len with a swift drop of scotch as was his norm. We retired to bed and ordered breakfast for 8am.