Day 10 – Sunday 18 May: St Giles Farm to Park House, Ingleby Cross.
A busy day ahead started with another laugh as I awoke at 7.30am ready for breakfast at 8am. I opened the curtains and looked out of my window towards the fields by the River Swale. Let me set the scene - the previous day we had walked from the left as I looked out and today we were walking to the right. To my surprise I saw a familiar solo male figure walking from the direction of Richmond in front of me followed by another familiar solo male figure about 100 yards behind. Both were looking furtively towards the farm as if they were trying not to be noticed – sorry guys 'gotcha' – it was of course Chas and Dave. We met them later and they admitted taking the wrong route and after walking 20 minutes realised they were heading the wrong way.
Anyway with the early morning comedy out of the way we had breakfast with 'Bamber' and kitted ourselves up for the long walk ahead. We said our farewells to Simon and Jane and off we went towards Catterick Bridge. It was my turn to be a plonker as I had walked about 600 yards and realised I had left my Leki walking pole at the farm and had to go back for it. The day was long enough without adding mileage to it but it was a pleasant day with the sun shining so I didn't mind. Mick and Malc waited for me at Catterick Bridge.
I arrived at Catterick Bridge to find Malc reading the information about Cataractonium as it was called by the Romans. Mick was waiting on the road bridge as we crossed and then turned right down a footpath by the River Swale. As we walked along we made comment about the width and depth of the Swale at this point in comparison to the few droplets of water we had crossed on the slopes of Nine Standards Rigg where the Swale rises. It is a pleasant walk on this section following the river most of the way to Bolton on Swale which is a picturesque village at the best of times but looked stunning with all the spring flowers on display. We looked at the village water pump as we passed through and I then pointed out Henry Jenkins memorial and grave in the churchyard. Did he really live to be 169 years old?
As we left the village we picked up the footpaths taking us along first one bank and then the other of Bolton Beck all the way to the minor road at Ellerton Hill. Mick was off well in front of us and out of sight as we turned left along the quiet country road past Ellerton Hill and Plantation Farms. I had a feeling that Mick would have turned off on a footpath and this was confirmed a short time later firstly by 2 C2C walkers heading east to west. These two young men were on their third day and had walked 31 miles each day so far. They were heading for Reeth and although they were putting massive distances in they were in good shape. They asked if we were from Sheffield and when we confirmed 'Yes' they said they had been told by two Cockney geezers that three fast walkers from Sheffield would be along the route. The two men had only counted Malc and myself which confirmed to me that Mick had turned off on the wrong path. We wished them well and looked at the map and saw a track running past Ellerton Hill and at that point the telephone rang and it was Mick 'Where are you?' We clarified the route and continued walking with Mick in hot pursuit. We were now on a long stretch of road all the way to Danby Wiske via Streetlam. We met up with Mick at Streetlam and walked into Danby Wiske village together to be confronted by the wide open doors of the White Swan pub – time for lunch and a few beers.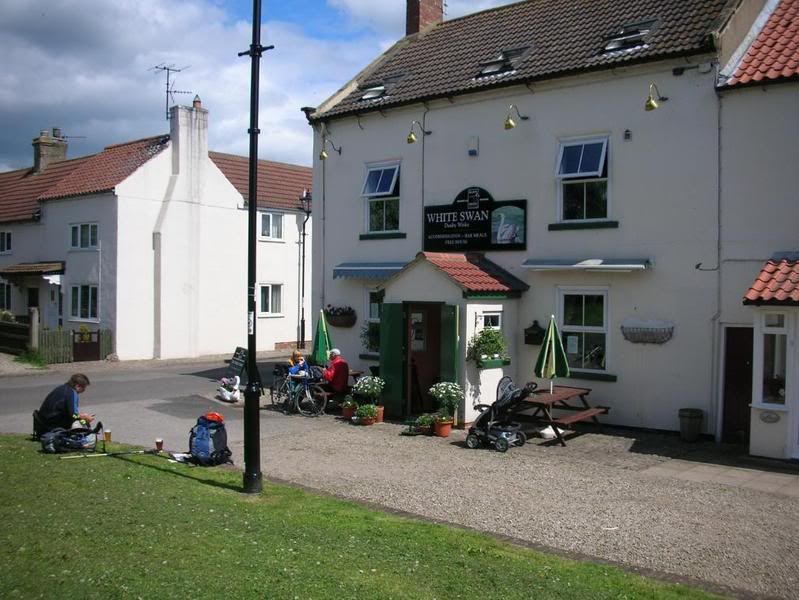 The White Swan was busy with a combination of walkers, cyclists and a christening party but I managed to get served quite quickly. I acknowledged the two Manchester ladies with their husbands sat in the pub. The relatively new landlord, Shaun, is a welcoming host and he explained that the pub would be open more often than under the previous owner. The food looked good so I had a ham sandwich to assist the beer go down well. I also visited a geocache whilst in the village. Whilst we were sat outside with our drinks firstly Geoff, Jane and Jeff appeared but didn't stay long before continuing along the route. I was aware they were heading for Osmotherly Youth Hostel so they had a little further to go than us.
Next to appear was Roger who was staying at the Blue Bell in Ingleby Cross and I knew he would be stopping for a few beers and a bit of food. No signs of Chas and Dave and no sightings of Chas and Dave – I bet they have got lost – but will they admit it? We chatted outside for about half an hour and then we set off on the next fairly flat section to Ingleby Cross.
The first few miles are on tarmac so we made swift progress before turning off down the stone track to White House Farm. On this section we were approached by a local farmer on a quad bike who engaged us in conversation about the walk. He had seen others from Doncaster (Geoff, Jane and Jeff) about 15 minutes in front of us. He related a story to us about an incident involving two rather antisocial youths who he had to deal with by using his fist (summary justice by the sounds of it). He showed us his clenched fist and shook Mick by the hand as we continued our journey – no kidding his fists were as wide as shovels and bulkier than a sledgehammer.
We pressed on at a good pace and soon caught up Geoff, Jane and Jeff and walked with or near them for the last 2 miles firstly into Ingleby Arncliffe and then down the hill to Ingleby Cross where we all went into the Blue Bell for a few beers. I took a photograph of Malc, Jane and Jeff approaching the chicken run crossing of the A19 trunk road. This is a dangerous road that requires care when crossing- still no footbridge over the A19 for C2C walkers – it will take a fatal accident before something is done.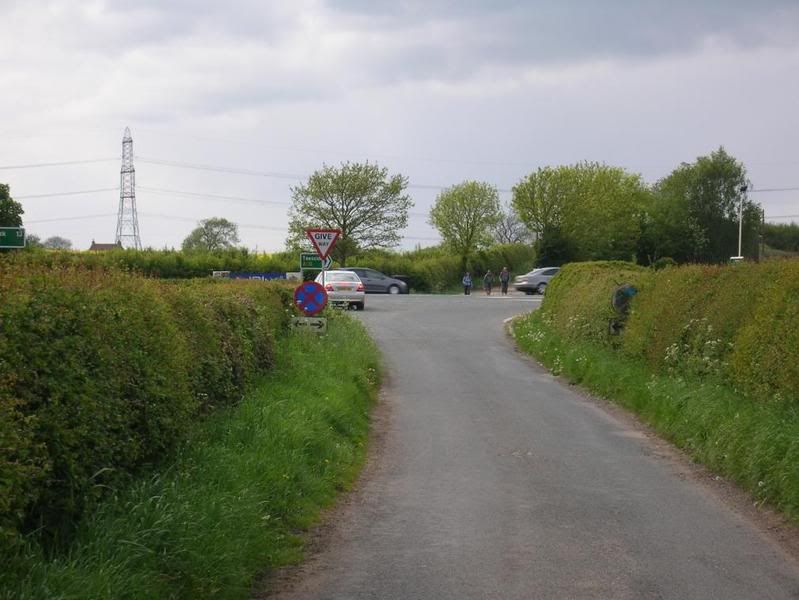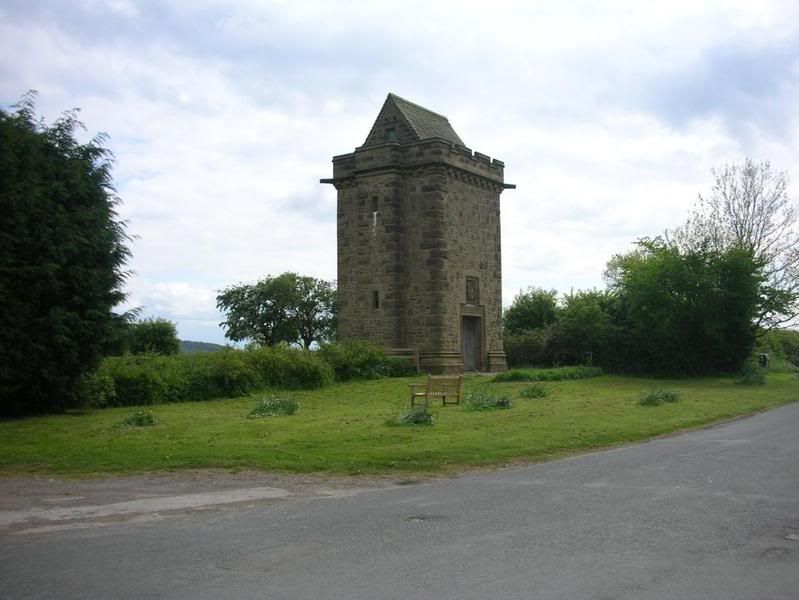 We were joined by Roger at the Blue Bell and had a laugh and a chat over a few beers before setting off up to our accommodation at Park House at the base of Arncliffe Woods about one mile away. Geoff, Jane and Jeff set off up the hill to Arncliffe Woods behind us on their way to Osmotherly. We arrived at Park House at 5.20pm and we were met by Diane, our hostess and what a lovely welcome to this fantastic location. I remember this being an outdoor activities centre in need of renovation and now it was an extensively and tastefully restored/decorated building. Mark and Diane have clearly put a lot of time, money and effort into making Park House what it is now and they deserve the support of guests. The bonus for us was that it was licensed so we ordered a few beers and waved them at Geoff, Jane and Jeff as they wearily passed Park House on their way up the hill through Arncliffe Woods. We chatted briefly to a couple from Sussex, who were also due to finish the C2C walk on the same day as us i.e. Thursday 22 May.
Diane showed us to our rooms after taking our orders for our evening meals which would be served at 8pm. I was in a room on my own and the others were sharing. This time it was Malc's turn to feel unwell – he started sweating and shivering almost uncontrollably and wanted to be left alone. As we approached evening meal time I joined Mick in the lounge but Malc was still feeling unwell in bed. I managed to persuade him to get up for something to eat and he did manage to eat his starter and main course before crashing out in bed still feeling unwell. The evening meal was excellent and more than plentiful – I had beef lasagne but there was too much for me to eat – the first time on the walk that I couldn't eat all the food. I did not have room for a sweet. We were chatting to a Canadian couple from Vancouver walking the C2C with their 9 months old son in a proper toddler carrier. The couple were clearly experienced walkers, well equipped for themselves and their son who had a fantastic personality and engaging smile. I retired to bed early feeling full leaving Mick to enjoy a few more drinks in the lounge.