Day 1 – Friday 9 May: St Bees to Low Cock How Farm, Ennerdale Bridge
I was wide awake again at 5.30am and just laid in bed until 6.30am when I showered. Malc was also awake by this time – not me gov honest! it was his own snoring. We sorted our bags and went across to the main farmhouse for our 8am breakfast. I normally like a full english breakfast whilst on these walks but decided on scrambled egg on toast. We chatted with the 4 Old Gits over breakfast and I'm pretty sure every one of us were excited about the walk in front of us. There were some other guests staying at Stonehouse Farm who were also setting out on the walk but it seems they had an early breakfast and were off including an American lady called Diane who we met on a number of occasions throughout the walk including the celebration get together at the end.
At 8.30am we decided to get kitted up and take a steady walk down to the beach to carry out the preliminaries of photographs at the start, dipping feet in the sea and selecting a pebble to transport across to the North Sea. As we crossed from the main farmhouse to the cottage the heavens opened and it started raining quite heavily – what a start we thought but we were up for it anyway. We put our waterproof coats on and off we went to the sea front.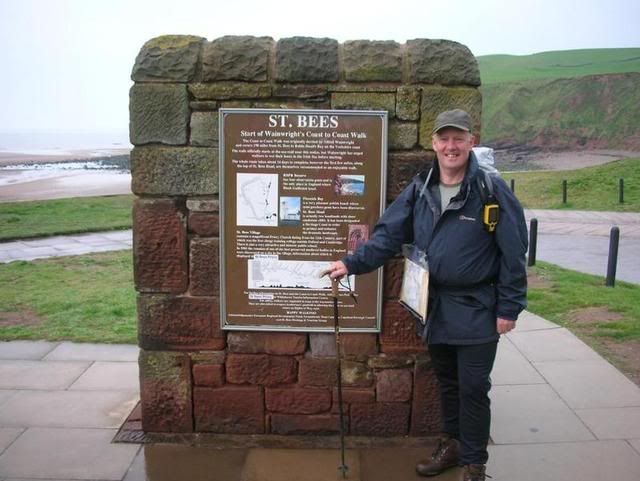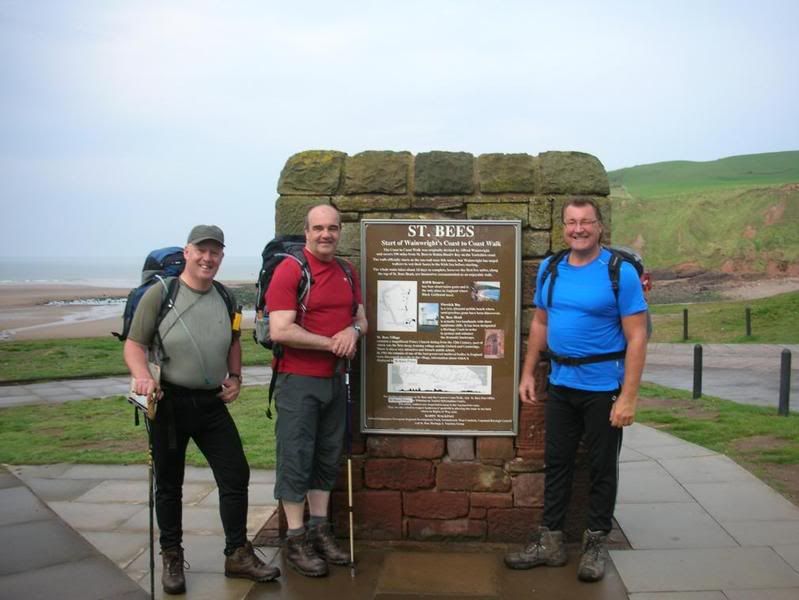 Preliminary photographs were taken of us individually at the starting plaque and then we ambled a little further to the beach to dip the boots in the water and select our pebbles. We saw the Old Gits walking back from the actual waters edge about 400 metres off shore but Mick pointed out a sizeable Irish Sea rock pool by the edge of the pebbles in which we duly dipped out feet and then commenced the search for our pebbles as the Old Gits arrived at the pebbles. A bit of banter followed about purists etc. and Mick selected a rock, that would have filled his rucksack, asking for some help to fit it inside – obviously only joking but the Old Gits didn't realise what a joker Mick is at first.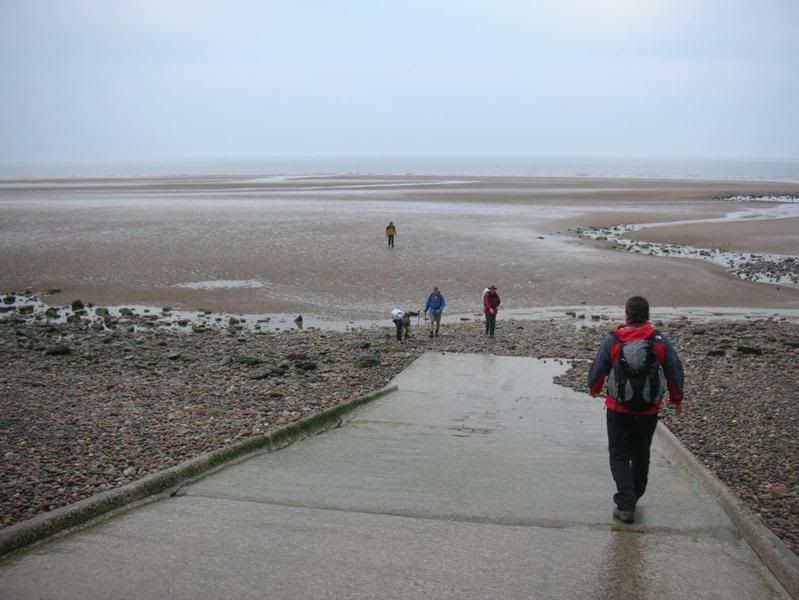 With pebbles selected and safely tucked into out rucksacks, the rain had stopped and it was safe to take off our waterproof coats – we didn't actually have to put them on again until Marrick on the stretch between Reeth and Richmond many days later. We exchanged the taking of group photographs with the Old Gits wishing each other well on the journey across Northern England and at 920am we were off up towards St Bees South Head like exocet missiles.
We were staying at Low Cock How Farm about one and half miles this side of Ennerdale Bridge so we had plenty of time to complete our days walk. As we reached the South Head we looked back towards the start to see the Old Gits getting ready for the off and a few other potential C2C walkers nearing the beach. As we walked along the cliff top path towards Fleswick Bay we could not see any other walkers but we knew others were well ahead.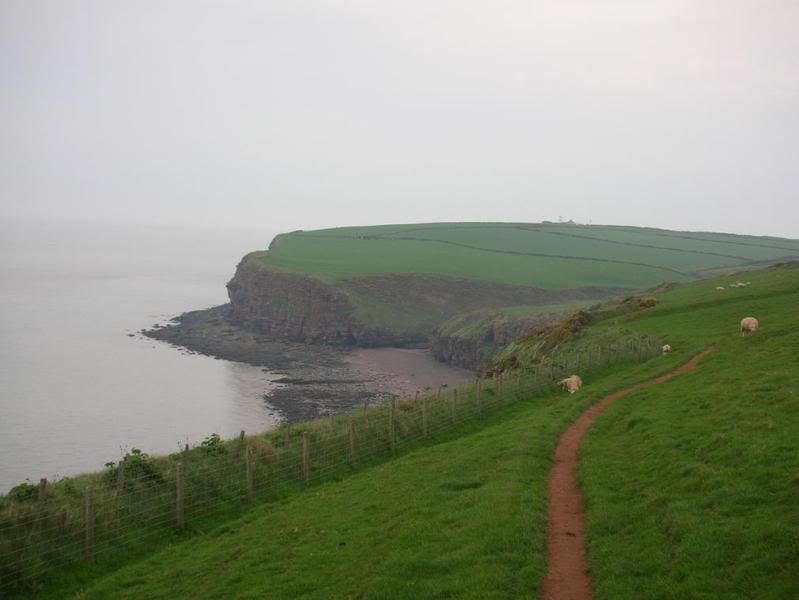 It turned out to be a pleasant day and a lovely walk along the cliff tops paths first negotiating the descent to Fleswick Bay and then up again to the North Head. There were an abundance of spring flowers along the route with large clusters of sea thrift bordering the paths and surprisingly large clusters of bluebells on the actual cliff tops. It wasn't going to be a botanical exercise along this route but I spotted many flowers including herb robert, coltsfoot and primrose. The birdlife was also plentiful with many varieties seen along the route along the cliff tops. I am quite good at recognising and identifying birds but Mick was as good if not better. Malc was still insisting that his recognition of a former England footballer, Albert Cowslip, on our last walk along this path was correct – come off it mate!
Progress was steady all the way along the cliff top path and in no time at all we were turning inland just past the quarry near the bungalows that afford great views over Salcom Bay. We were now heading east and at a good pace along the lanes and paths leading to Sandwith village. This is a picturesque little village with what appears to be a good village pub – it was closed as we passed through the village otherwise we would have called in to give a more detailed report in this journal. On we pushed passing Lanehead, Demesne and Bell House farms before the decent down the fields and under the railway to the Stanley pond area.
On the way down towards the railway we could see other walkers ahead and it was a fair bet that they were some of the early starters on the C2C. There was a group of 2 and a group of 3. We were confident that would be soon reel them in to have a chat and exchange information about our respective schedules.
As we descended towards the tunnel under the railway we saw the first group of 2 who were two Australian ladies called Wendy and Libby who were on a 16 day schedule. I chatted to them about their expectations for the walk as we crossed the footbridge leading to the Stanley pond area. This can be a boggy area but fortunately it was quite dry and we crossed it trouble free. We actually passed two ladies seated near the end of the footbridge with two dogs, a red setter and a dalmation. I said good morning but assumed they were locals out walking their dogs but it transpired from subsequent meetings with them that they were also on the C2C walk with some back up support along the way.
We pushed on up the fields chatting to the 2 Aussies about the walk until we met and then crossed the B road leading to Moor Row. A photo opportunity presented itself to us at the road junction as a new sculpture had been erected here since my last walk in 2006. It shows a walker on a plinth inscribed 'Coast to Coast' and had been erected by the Moor Row Residents Association.
As we walked down the road towards Moor Row we fast approached and caught up with the group of 3 walkers we had seen from the hillside above Stanley pond. This proved to be the next coincidence of the walk and another example of it being a small world. I was about 20 metres ahead of Mick and Malc as I drew alongside the group Geoff, Jane and Jeff (forgive the spelling if incorrect but the different spellings are for subsequent identification) and said 'Good morning lady and gents are you on the C2C walk?' They confirmed my suspicion and we started to chat about schedules – we were both on a 14 day walk so it was inevitable that we would see quite a bit of each other over the coming 2 weeks. Ironically they were from South Yorkshire and as Mick and Malc walked just in front of them Geoff shouted to Mick who instantly recognised Geoff and Jane as former work colleagues who had actually attended Mick's retirement do in December. All 3 were from Doncaster which we all know very well. We walked along chatting to them about our schedules before we naturally forged ahead as we turned right to go down to Cleator village where we intended to have a spot of lunch. We walked along 'Wainwright Passage' passing the village cricket ground before emerging onto a side road that led directly to the front door of the 3 Tuns public house – it would be rude to pass by without sampling the ales on offer so in we went to be greeted by Rena, a lady from Glasgow who had visited the village 17 years ago and never left. Drinks were ordered and we sat in a small room with the window giving a clear view down the side towards 'Wainwright Passage' so we could see others walkers approaching. In the time we were in the pub we saw the Doncaster 3 pass by but no signs of the Old Gits.
There was one other solo male walker in the bar area who we engaged in conversation as we enjoyed a chat with Rena about village life, the C2C walk and anything else that came up. The solo male walker was Roger from Yeovil in Somerset who we would see many times over the next couple of weeks and share his company walking, drinking and eating. Roger also enjoyed the odd pint of beer like us so we were in good company. Roger was on a 13 day schedule so would finish one day before us.
Anyway 3 pints later it was time to move off just down the road to village store to buy a spot of lunch and what a bonus as the store clearly caters for C2C walkers passing through the village at this time as it had a good selection of hot meat and potato pies and the like for sale already wrapped in bags. I bought us one each and off we went eating on the march towards the lanes leading to Black How Farm at the base of Dent Hill. Roger had set off from the pub at the same time as us but was in front now as he had not visited the shop. As we crossed Blackhow Bridge on leaving the village we saw and chatted with the two ladies with the red setter and dalmation dogs who told us about their planned schedule, including the fact that they were also staying at Low Cock How farm. They turned right over the bridge looking for a suitable picnic spot by the river and we continued up towards Black How farm and the forest track leading to Dent.
I recollect the tug up the hill to Dent from my walk in 2006 and didn't particularly fancy it with 3 pints of beer and a meat and potato pie on board but a sensible steady plod ensured we quickly reached Dent summit in the glorious sunshine. We passed Roger on the way up to Dent but he was only a short distance behind us as we rested and took a few photographs at the large summit cairn. We could see the 2 Aussie ladies picnicking by the wall about 50 metres away and even further away at the mini summit of Dent we saw the Doncaster 3 having a rest and some lunch. The views were a little hazy in the sunshine but clear enough for me to point out some of the route we would be taking the following day up the Ennerdale valley and over towards Borrowdale. We also looked back along the route we had travelled so far picking out some of the features we had passed.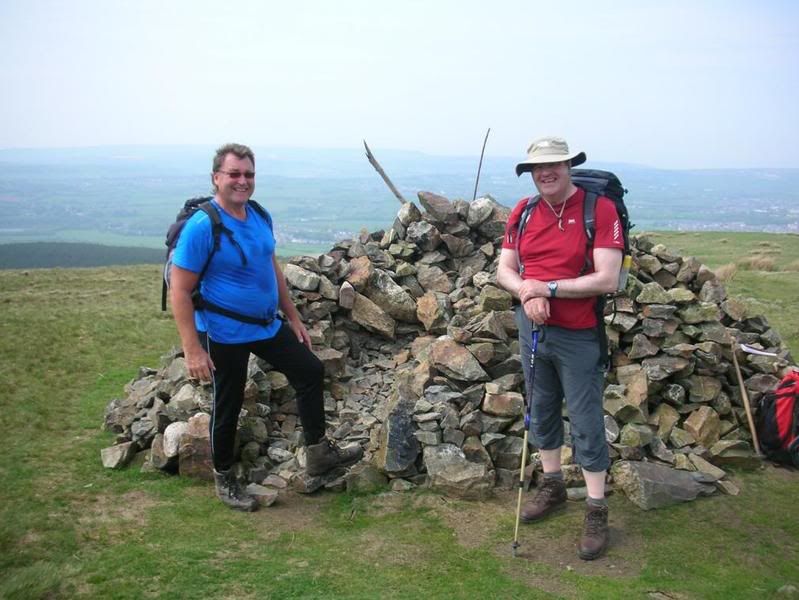 We walked along the unusually dry summit area to the small cairn where Geoff, Jane and Jeff were sitting, but on our arrival they set off down towards Nannycatch closely followed by the 2 Aussies. I pointed them in the right direction based on Stedman's guide book which takes the left hand path over a high ladder stile just below the water tank instead of the more circuitous route following the Coast to Coast fingerpost to the right down through the forest. The only negative to taking the route over the high ladder stile is that the lower end of the path is down a steep and often slippery grassy bank to Nannycatch. We followed them down about 5 minutes later as I had visited a nearby geocache whilst on the summit area.
Nannycatch looked great in the spring sunshine with its mixture of sheep with their lambs, various birds and an abundance of wild flowers. We didn't have too far to go to our overnight accommodation so we were in no rush and it gave me the opportunity to visit two further geocaches in Nannycatch and near Kinniside stone circle, just off the minor road we would follow for a short while before turning left down to Low Cock How farm.
On arrival at Low Cock How farm we were met by Dorothy who ran the B & B side of the farms business which included pony trekking as well as being a 1000 acre, principally sheep farm. We were the first guests to arrive and we were shown to our rooms and Dorothy put the kettle to make us a drink. Dorothy is an easy going very friendly hostess who made us feel welcome from the off. Mick asked what we would be having for dinner and we were told beef, potatoes and veg. 'What no Yorkshire pudding?' asked Mick – I'll make them for you if you want. A bit cheeky really but typical of Mick who has a fantastic outgoing personality. Dorothy took the comment in the way it was intended a bit tongue in cheek and I'm sure she enjoyed the ongoing banter throughout our stay. We were aware that the Old Gits and two ladies with dogs were also due to stay here and they arrived over the next hour.
We had a hot drink and then showered before sorting our bags and kit for the next day. We were occupying two twin rooms on the eastern half of the accommodation annex whilst the Old Gits were occupying two twin rooms on the western half of the annex. Each half had it's own shared toilets/bathroom facilities which were also used by anyone staying in the central ground floor bunk house accommodation where the two ladies were staying. The accommodation was clean and comfortable and although it may be busy using the shared facilities at peak times it is a place I would stay at again and recommend others to do so.
On our arrival we had been advised that dinner would be at 7pm but Dorothy called us in to dinner a little earlier so we sat down to dinner at 6.45pm. The Old Gits were at one table, we were at another table and the two ladies were at a third table. On reflection it may have been more conducive to conversations had we all shared a long table but I'm sure Dorothy will have encountered such situations previously when other groups wanted privacy. It didn't hamper cross fertilisation of comments and views throughout dinner which was excellent value for the £13 charged. We had melon as a starter, beef, potatoes and 6 vegetables for the main course, followed by strawberries and ice cream. The meal was supported by water, tea/coffee and lager. We ordered our packed lunches for the following day and then engaged in conversation with Dorothy and her husband George.
Now George is a real gem of a Lakeland farmer with a fantastic accent and he is a man who speaks his mind. He clearly is at odds, I suspect like many farmers, at the bureaucratic nature of farming these days with licences needed to do anything and everything in farming. There is no doubt the situation frustrated George and I'm sure the men from the ministry will have a real handful in their dealings with him. We had a really enjoyable chat after dinner before retiring to our rooms at about 10pm. We had booked an early breakfast the following morning as we had a longish walking day and wanted to get an early start.